The "Batas" scene by Amor Powers was aired anew in the modern retelling of Pangako Sa'Yo.

The much-talked about scene has one major change, though: Eula Valdes vowed to make her oppressors feel the wrath of "Batas ng Alipin" while Jodi Sta. Maria promised to exact revenge on the Buenavistas who will experience "Batas ng Api."


BATAS NG ALIPIN. Eula Valdes, the actress who portrayed Amor in the 2000 version, did the scene in the Payatas dumpsite after being driven out from Punta Verde owned by the Buenavistas.

In the dumpsite, she sees a newspaper showing the wedding announcement of Eduardo Buenavista (played by Tonton Gutierrez) to Claudia (played by Jean Garcia).
Amor vows: "Matitikman niyo ang batas ng alipin!"
She then leaves for the United States to work and raise her child Maria Amor. She entrusts her baby to her mother (played by Perla Bautista).
However, a trash slide buried alive her mother. Amor was led to believe that her baby Maria Amor died.

Apparently, the family of Tatay Isko (Cris Daluz) and Nanay Belen (Eva Darren) were able to find the baby and raised her like their own. They then renamed her as Yna.
This particular scene tapped hundreds of extras for the catastrophic landslide in the dumpsite.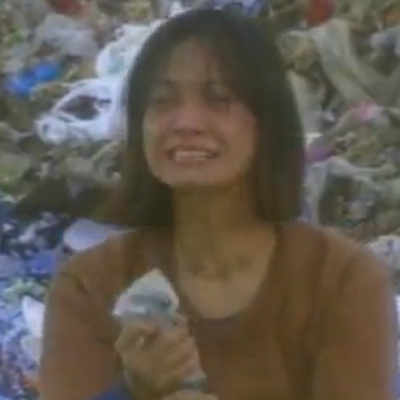 Image Courtesy of ABS-CBN



BATAS NG API. In the 2015 version, Jodi Sta. Maria did it in a mine after a landslide buried her family alive.

One difference from the original is that she mourns the loss of her father (played by Buboy Garovillo). In this new version, her daughter Maria Amor is already a young kid, unlike the original where Maria Amor was still a baby.
Another difference is that the word "alipin" was changed to "api," which is more apt in this version since Amor De Jesus isn't a maid in the household of the Buenavistas.
Prior to the landslide scene, viewers see that Amor is working as a caregiver in Hong Kong when she learned about the tragic landslide through a TV news program.

She begs her employer to allow her to return to the Philippines but her request is turned down. The mother of Maria Amor gets a phone call telling her that her daughter perished but it turns out that the young girl survived the landslide.
A policeman played by Ronnie Lazaro adopted Maria Amor and named her Yna because of a necklace found in her possession. The young girl , now known as Yna Macaspac, will eventually grow up to be portrayed by Kathryn Bernardo.

The distraught Amor can only cry as she watches Claudia (Angelica Panganiban), now married to Eduardo (Ian Veneracion), speak about the landslide on TV.

Eduardo, the owner of Buena Sierra, is blamed by residents for causing the accident due to mining activities of his company.

Eventually, Amor is allowed to return to the Philippines and she heads straight to her hometown, which is now a barren landscape filled with boulders that crushed her loved ones.

She catches a glimpse of a flyer that was used in the campaign of Eduardo and Claudia. She stands up and tears the paper to pieces.

Slowly and deliberately, Amor makes a vow: "Saksi ang Diyos!
"Hindi lahat ng araw inyo! Hindi lahat ng batas, kayo!
"Lahat ng ginawa niyo sa 'kin, nakaukit sa puso at diwa ko!
"Lahat ng hirap at sakit, ibabalik ko sa inyo!
"Lahat kayo…
"Matitikman ninyo ang batas ng isang api!"
She crumples to the ground and shouts the name of Maria Amor.

Aerial shots were tapped and hundreds of extras were assembled by directors Olivia Lamasan, Rory Quintos and Dado Lumibao to mount the landslide scenes.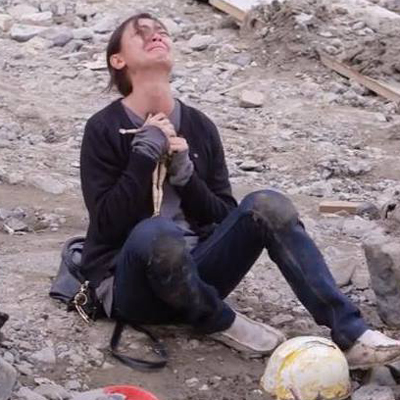 Image Courtesy of byxbuzz

Both Eula Valdes and Jodi Sta. Maria were able to showcase their intensity and talent in this iconic scene.

Eula delivered the scene while being surrounded by heaps of garbage in the Payatas dumpsite while Jodi shouted out her frustrations in the midst of rocky mountains.

This catastrophe triggered Amor to plot her revenge against Claudia and the Buenavistas for all the injustice done to her. Amor also has an axe to grind against Eduardo's brother, Diego (Bernard Palanca), who raped her in the past while her ex-boyfriend abandoned her.


Which version is better when it comes to location and cinematography?
Who did it better as Amor Powers: Jodi Sta. Maria or Eula Valdes?
PEPsters, share your thoughts in the comments section below.