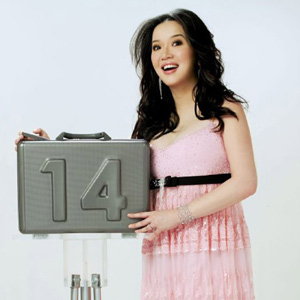 ---
Americans will soon see how the game show Deal or No Deal is played in the Philippines. Kris Aquino will co-host this special episode with Howie Mandel when the U.S. program visits the Philippines from April 22 to 25 as part of its ongoing world tour.
ABS-CBN Business Unit Head Alou Almaden said American contestants will be playing the game according to the rules of the Philippine version with our own Banker and the 26K girls.
"We are proud and excited that the Philippines has been chosen to be part of the show's world tour," she said. "It will be an opportunity for us to show our creativity in localizing a global hit program and at the same time, showcase the best of our country in the special two-hour episode."
Since its debut in the Netherlands in 2001, Endemol's Deal or No Deal is now seen in more than 50 nations globally. In the U.S. version, contestants play and deal to win the top prize by opening 26 briefcases with prizes ranging from one cent to US$1 million.
The Philippine version, which premiered in 2006, has been a big hit and a top-rater for ABS-CBN. Contestants have to choose among 26 briefcases, held by the lovely 26K girls, with values ranging from P1 to P3 million.
Aside from the Philippines, the U.S. version of Deal or No Deal will also be taping in Estonia and South Africa. At press time, the people behind Kapamilya, Deal or No Deal at ABS-CBN are busy preparing for the special taping to ensure its success.
ADVERTISEMENT - CONTINUE READING BELOW
Kris Aquino's show Kapamilya, Deal or No Deal used to air weekdays on ABS-CBN.