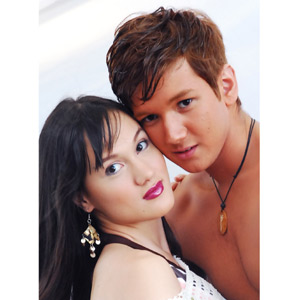 ---
After their successful tandem in Pedro Penduko and their first team up in Love Spell: Hairy Harry, Matt Evans and Melissa Ricks are now cast in more mature roles. The two topbill Your Song: Sayang na Sayang, which airs Sunday afternoons on ABS-CBN.
With their blooming career and close relationship, the two young celebrities are more comfortable with each other, both on a working and personal level. Matt candidly shares that he finds Melissa's legs the sexiest part of her body while Melissa likes Matt's chest and arms the most.
In the series, the two will be wearing more revealing outfits. For the first time, Melissa will be seen wearing a two-piece sexy suit. When asked if she would pose for a men's magazine, she explains, "I don't think I'll ever pose for a men's magazine. That was my promise to myself."
Matt, on the other hand, shares his thoughts on becoming a future sex symbol. "It's fine with me if ever that happens but, of course, I still want to be a role model for the youth."
ADVERTISEMENT - CONTINUE READING BELOW
Another big surprise came when Melissa revealed that her first real kiss in life was during the shoot with her loveteam partner Matt! Manny Palo directs this episode, which was shot in Calatagan, Batangas.
Don't miss other juicy scenes with a reinvented Matt and Melissa! Get to watch these two hot teens as they play sexier and more mature roles and find out what these exciting scenes are in the April 13 episode of Your Song.
Also starring Lovely Rivero, Sheryn Regis, Cathy Gonzaga and featuring "Sayang Na Sayang" of Sheryn Regis, watch Your Song in the premiere telecast this Sunday, April 13, after ASAP '08 on ABS-CBN.