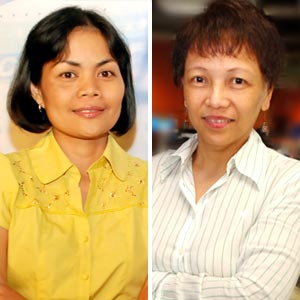 ---
ABS-CBN Broadcasting Corporation has appointed award-winning journalists Marites Dañguilan Vitug and Glenda Gloria to lead its online and cable TV news groups.
Vitug is now the editor-in-chief of abs-cbnnews.com, the local online news site of the Kapamilya Network. She will manage its content as part of the partnership with Newsbreak, which she currently heads.
"abs-cbnnews.com is a good place to be in because the Internet is the wave of the future, where people will be getting their news. I want it to have the edge of being able to make sense of what is happening," said Vitug, a journalist for almost 30 years and the Philippine correspondent for Newsweek.
On the other hand, Glenda Gloria is the chief operating officer of ABS-CBN News Channel or ANC.
"ANC has so much potential for growth. No other TV channel in the Philippines does what it does best: break news fast, extend coverage of crucial events, and provide perspective. We have viewers in key cities of the world and we must be able to address their complex information needs," said Gloria, who has written several books on Philippine elections, politics, security issues, Mindanao, and the media.
ADVERTISEMENT - CONTINUE READING BELOW
Prior to joining ABS-CBN, Vitug and Gloria have worked together on many occasions. They founded and worked as editors of Newsbreak magazine and wrote the book, Under the Crescent Moon, which won the National Book Award in 2001. Both alumnae of the London School of Economics and Political Science, the two welcome the challenges of working with ABS-CBN and putting their individual stamp on the platforms they now manage.
"I am slowly embracing online technology as well as the flexibility and seemingly limitless opportunities it offers," said Vitug.
Gloria underscored the importance of breaking news well on TV, combining substance and speed. "We must be able to analyze and contextualize. There is no room for empty talk," she said. "In a politically charged environment, we must exercise better and stronger editorial control to ensure accuracy, fair play, and sound news judgment."
ANC and abs-cbnnews.com are part of ABS-CBN's News group headed by Maria Ressa, who says, "these two media platforms are our gateways to the world and to a new future. With great journalists—and friends—like Marites and Glenda now helping us chart that future, we can work more efficiently to marry traditional and new media in a way that will serve the public better."
ADVERTISEMENT - CONTINUE READING BELOW
In addition to the entry of Vitug and Gloria, Ressa announced a first in Philippine television history—ANC's partnership with Al Jazeera.
Al Jazeerah English's 30-minute newscast from its broadcast center in Kuala Lumpur is now seen live on ANC weekdays at 4 pm. This program is part of a content distribution partnership between the two networks. It is anchored by former ABS-CBN, CNN, and BBC journalist Veronica Pedrosa.
Another Filipina, Marga Ortigas, a former ABS-CBN, Probe Team and CNN reporter-producer is also part of this 30-minute newscast. Ortigas has been shuttling back and forth to Mindanao in recent years as Al Jazeerah's Manila Bureau correspondent.
One of her most memorable feats was an interview with the Abu Sayyaf last year when the group was undergoing a leadership change while the military was pursuing it actively. Another was her coverage of the aftermath of typhoon "Reming," where she witnessed the destruction and loss it brought to the people in Albay.
ADVERTISEMENT - CONTINUE READING BELOW
Now that Al Jazeerah English is seen on ANC, it will be able to reach more Filipino viewers. Said Ortigas: "There is more than one way to tell a story. I think it will be great for Filipino people to have more choices."
ANC is seen on SkyCable channel 27 and is part of ABS-CBN News and Current Affairs Group, which produces the country's leading primetime TV newscast TV Patrol World and the Emmy-nominated late night news program Bandila.