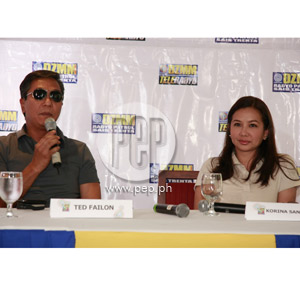 ---
It was an idea totally unheard of in the past. One year later, with a competitor threatening to imitate the idea, DZMM's idea of merging radio and television has proven nothing short of revolutionary.
"A lot of people thought, in the beginning at least, that that's a crazy idea of radio going into television," confided ABS-CBN Broadcasting VP for Manila Radio Division Peter Musngi. He headed the April 11 press conference celebrating the 1st anniversary of DZMM's TeleRadyo. PEP (Philippine Entertainment Portal) was present during the press launch of TeleRadyo held last April 18, 2007.
The cause for concern was summed up by Musngi: "Mawawala daw 'yong mystique, mawawala 'yong mystery ng radio, anchors in particular. But judging from the reception that we had para sa mga subscribers ng SkyCable, first and foremost, and the cable operators outside of Metro Manila, rest of Luzon, Visayas and Mindanao, they have effectively asked for DZMM TeleRadyo para maging kasama dun sa kanilang mga cables na pinaparating sa iba't ibang households na nasasakupan nila."
ADVERTISEMENT - CONTINUE READING BELOW
REALITY RADIO. Musngi acknowledged that there's nothing really mind-blowing in seeing radio anchors talking in front of a mike for more than an hour, much more watching them push a handful of console buttons almost every minute. But those little things plus a dozen other factors are exactly the right ingredients that made TeleRadyo a success story.
With the proliferation of reality shows both in the local and cable channels, it is easy to assume that most of the programs being shown are still manufactured and cunningly edited to suit the "reality." The same formula can't be applied to radio.
Radio anchors, first and foremost, are real journalists and there's nothing more exciting than seeing these dedicated professionals debate and interact with public officials over issues concerning the nation.


By mixing radio with TV, TeleRadyo is able to give a more vivid account of what's being reported. One perfect example of this was the Glorietta II blast that occurred on October 19, 2007. Using highly sophisticated cell phone cameras, the DZMM crew was able to document the entire horrific aftermath of the blast as well as give the public a visual representation of the damage.
ADVERTISEMENT - CONTINUE READING BELOW
While radio continues to own the distinction as one of the oldest forms of media, Musngi stressed that radio must adapt to the changing times to make progress.
"Radio must evolve for it to attract all potential audience and listeners worldwide," said the executive who had the difficult task of convincing the anchors to embrace the television-radio format a year ago.
REACHING OUT GLOBALLY. Going beyond radio enables DZMM 630kHz to widen its audience reach, not just in the Philippines, but in the international market as well.
"DZMM's reach via radio is limited to Luzon, Visayas and Mindanao," he pointed out. "By going into TeleRadyo, DZMM is now able to reach Filipinos who are residing outside of the Philippines."
Striking a partnership with TFC now in the United States as well as with other cable channel providers, DZMM is able to provide fresh and updated news to Filipinos residing abroad.
ADVERTISEMENT - CONTINUE READING BELOW
Subscribers can now listen and watch Korina Sanchez and Ted Failon dish out commentaries via Tambalang Failon at Sanchez. Not to be outdone is the tandem of Anthony Taberna and Gerry Baja in Dos por Dos as well as Neil Ocampo's Todo Balita.
Trust the Radyo Patrol Balita team made up of Angelo Palmones, Bernadette Sembrano, Alex Santos, Pinky Webb and Nina Corpuz to deliver the latest in national events.
It's not all hard news and current affairs. Filipinos can satisfy their craving for the latest tsismis through Cristy Fermin and Jobert Sucaldito's showbiz program heard on weekdays, while Alfie Lorenzo takes over the reigns on Saturdays.
To drum up its presence in the U.S., DZMM TeleRadyo is participating in the World Caravan in California organized by the Philippine Tourism Authority.
DZMM is also gearing up for the launching of its official website, www.dzmm.com.ph, within the next couple of months.
ADVERTISEMENT - CONTINUE READING BELOW
GIVING BACK TO THE COMMUNITY. DZMM is also proud of the various activities they lined up this year, which are meant to uphold their commitment of serving the Filipino community.
Leading the list is Turn Trash Into Cash, wherein donations of empty soda cans, bottled water and car batteries will be sold. The proceeds of the endeavor will go to Bantay Kalikasan.
Viewers can take part in the Papremyo sa Kalendaryo, a monthly on-air raffle promo using the 2008 DZMM calendars distributed to the public.
There's also the annual and popular Buntis Congress, which aims to promote and raise awareness on health care, safety for expectant mothers and caring for newborn babies. The program also imparts important pointers to encourage responsible fatherhood.
DZMM and 101.9 For Life anchors and DJ's together with celebrity players also tour Mega Manila as part of the Basketball Patrol, which is a series of exhibition games.
According to Station Manager Angelo Palmones, these activities are being carried out for them to actually interact with the public and also as a way for them to express their gratitude to the millions who made DZMM one of the leading AM radio stations in the country.
ADVERTISEMENT - CONTINUE READING BELOW