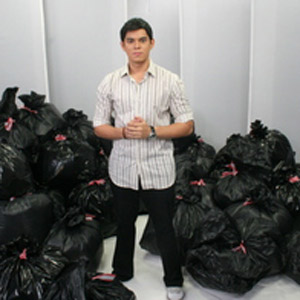 ---
GMA-7's upcoming TV special aims to spark a meaningful discussion among viewers about the growing threat of climate change, a topic often overlooked by many people. Even the Philippines is gradually feeling this global phenomenon, having gone through several major calamities in recent years.
Richard Gutierrez was the first and only choice of the Kapuso network to be the host-narrator of the environmental documentary Signos: Banta ng Nagbabagong Klima, which will air on April 20.
Aside from being a bankable TV and movie star as well as a youth icon, Richard is passionate about one of the key ladies in his life: Mother Earth. The matinee idol has been actively involved with the environmental group Green Peace since last year.
Richard believes that all Filipinos should be aware of the consequences of global warming. "We should all be concerned about what happens to Mother Earth since it's the only [planet] we got," Richard points out. "I really took time off from taping Kamandag to host Signos, as I believe in its importance in imparting to viewers that we should all cooperate to prevent global warming."
ADVERTISEMENT - CONTINUE READING BELOW
He explains the connection between climate change and the natural disasters that have ravaged the Philippines in recent years.
"As of now, it's predicted that natural disasters are bound to get worse because of [climate change]. In Bicol and El Nido, the biodiversity of underwater life is affected by coral bleaching. In Cagayan, there's one area badly affected by snail fever. In General Nakar, the natives continue to suffer from malaria. Supertyphoons like last year's Milenyo and Reming are the results of climate change. In the future, coastal areas in our county might be submerged in water when the sea level goes up as polar ice melts."
Howie Severino, Maki Pulido and Raffy Tima are also involved in the creation of Signos (Fatal Signs). The award-winning journalists traveled to different parts of the Philippines to investigate the impact of climate change. Severino visits Bicol, where a 150-meter fault line and intensifying typhoons threaten to bury towns with landslides. Pulido discovers a town in La Union that has dwindled to more than half its original size. In El Nido, Palawan, Tima ventures underwater to investigate a phenomenon called coral bleaching.
ADVERTISEMENT - CONTINUE READING BELOW

Don't miss this enlightening and eye-opening full-length documentary. Signos: Banta ng Nagbabagong Klima will premiere on GMA-7's Sunday Night Box Office on April 20, right after Ful Haus.