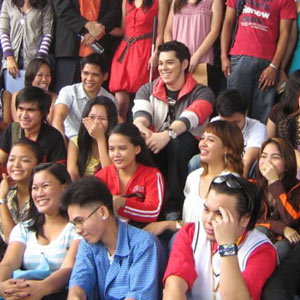 ---
Pinoy Idol's panel of judges and host Raymond Gutierrez first scoured Mindanao and the Visayas, among contenders of all ages and walks of life, for potential singing champions in the reality singing competition.
Now Pinoy Idol seeks out promising hopefuls in Luzon. This Saturday, April 19, GMA-7's reality talent search airs at 6:30 pm, right after Pinoy Records.
Throughout the auditions, the judges—talent-manager Wyngard Tracy, singer-songwriter Ogie Alcasid and singer-actress-host Jolina Magdangal— witnessed the drama behind each and every dreamer. Unexpected cheers, failures and missed high notes dominated the entire scenario.
Idol hopefuls belted out their songs before the critical judgment of the jury's three members. The contestants were filled with high hopes of getting the coveted golden ticket that signals their chance to become the first-ever Pinoy Idol.
Some received compliments and praises from the judges after delivering suave and promising performances. Those who were unsuccessful in doing justice to their songs at worst got the ire of the judges. They packed up and went home thinking about the judges' constructive remarks.
ADVERTISEMENT - CONTINUE READING BELOW
There was an overwhelming outpour of emotions. Those lucky enough to get the nod of the judges jumped for joy, screaming with pride. But the hapless ones shed tears and expressed disappointment.
All geared up to lend support and comfort to the hopefuls was Pinoy Idol host Raymond Gutierrez. He was in his element in comforting the not-so-fortunate aspirants as he boosted their sinking spirits.
GMA-7 holds the airing rights of the Idol franchise owned by Fremantle. The competition is a huge hit in several countries around the world and continuously breeds talented singing artists. GMA-7 also acquired the license of the other Fremantle shows, Celebrity Duets and Whammy.
Who among the Luzon contestants will receive golden tickets? Catch their audition at Pinoy Idol this Saturday, 6:30 pm, right after Pinoy Records.