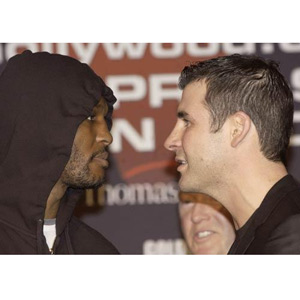 ---
Will mayhem explode when The Executioner crosses paths with The Pride of Wales? Find out when Studio 23 broadcasts the boxing event Hopkins vs. Calzaghe: Battle of the Planet, live from the Planet Hollywood Hotel and Casino in Las Vegas on Sunday, April 20, starting at 10 am.
Hopkins vs. Calzaghe: Battle of the Planet comes fresh off the success of ABS-CBN Sports' co-production of Invasion: Philippines vs. the World, whose main event between Gerry Peñalosa and Ratanchai Sor Vorapin received a 31.2 percent rating and a 64.3 percent audience share in Mega Manila, according to the TNS TV meter.
Fans are looking forward to one of the great trans-Atlantic matchups ever when Bernard "The Executioner" Hopkins, one of the all-time boxing immortals, gets into the ring with "The Pride of Wales" Joe Calzaghe, considered one of Europe's brightest boxing hopes.
At 43, Hopkins is already a boxing institution with an astonishing seven titles to his name. These include the undisputed World Middleweight Championship, which he defended for five years. With such credentials, why does he want to enter the ring again? Simply because of pride. "I will never let a white boy beat me," said Hopkins last December, when the negotiations for Battle of the Planet were under way.
ADVERTISEMENT - CONTINUE READING BELOW
More recently, Hopkins has claimed that in honor of this, his possibly last bout, "He [Calzaghe] is going to be bleeding, he's going to get knocked down and get up and get busted up again, and he'll keep coming until somebody saves him."
The cheeky Calzaghe, meanwhile, has taken to calling Hopkins "Popkins," in reference to his relatively advanced age. The native of Wales added, "Although he's in tremendous shape for 43...he'd have to struggle to keep up with my style." Calzaghe is notable for his 20 successful defenses of his undisputed Super Middleweight title, a record only exceeded by Joe Louis and Dariusz Michalczewski with 25 and 23 defenses, respectively.
But is it a good time for the 35-year-old Calzaghe? It is Calzaghe's first match outside of Europe, and his first fight as a light heavyweight. Will the extra weight and the lack of a hometown advantage be a problem for the brash Welshman?
ADVERTISEMENT - CONTINUE READING BELOW
There is also the issue of the dream team that Hopkins has assembled to train him, which includes fitness trainer Mackie Shilstone, John David Jackson and Nazim Richardson. Another notable member of his training team is Freddie Roach, who will be devising the game plan for Hopkins in much the same way he guided our very own Manny Pacquiao.
In contrast, Calzaghe is mainly training under his father Enzo Calzaghe, who has shepherded cruiserweight champ Enzo Maccarinelli, junior welterweight title-holder Gavin Rees and upcoming middleweight Nathan Cleverley, who will also be a featured fighter in Hopkins vs. Calsaghe: Battle of the Planet.
Undercards for the bout include Britain's 2000 Olympic gold medalist Audley Harrison vs. American Ed Perry in the heavyweight category; middleweights David "The Destroyer" Lopez from Mexico and American Ryan Davis; and Nathan Cleverley from the U.K. vs. New Yorker Victor Paz in the middleweight division.
Make sure you're there to see a very special sports event when Studio 23 airs Hopkins vs. Calsaghe: Battle of the Planet this Sunday, April 20, at 10 am.
ADVERTISEMENT - CONTINUE READING BELOW