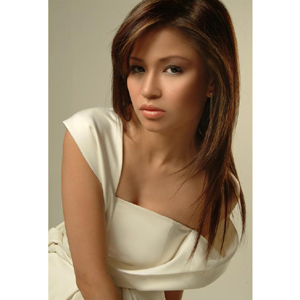 ---
Say Alonzo, or Sherylle Ann Alonzo Yutadco in real life, is now the latest addition to the roster of VJs of Studio 23. She joins fellow VJs including John Prats, Denise Laurel, and Juddah Paolo.
She has good reason to savor this brand new project of hers. Being the premiere free-TV youth channel of the ABS-CBN broadcast group, Studio 23 is home to hit international TV series like Desperate Housewives and Grey's Anatomy. The TV station often referred to as the "Kabarkada" network is also known for producing award-winning and youth-defining shows such as Y Speak and the games of the University Athletic Association of the Philippines (UAAP). Studio 23 also popularized the cute and often mischievous animated characters of Barkada Trip.
And because of its youth-friendly content, Studio 23 is strongest in the 20-29 age demographic and appeals to a core audience composed of 16-35 year-old viewers. It is also ranked third as the channel of choice of ABC1 audiences.
ADVERTISEMENT - CONTINUE READING BELOW
Given the reach and influence of Studio 23, how does Say feel about being an official Kabarkada?
"I really, really want to be a VJ kaya I love Studio 23 for giving me the opportunity. It's my home. Since I got out of PBB hindi ako nawalan ng trabaho sa kanila," she gushed. "That's why I signed the contract without reading it. I trust them completely."
The Pinoy Big Brother Season 1 alumna adds that the trust they have in her is definitely not misplaced as she is enjoying all the perks of the job. Her biggest treat so far? Say got to travel out of the country to places like Palau and Vietnam with the other VJs for Barkada Gimmicks.
At the start of 2008, Say told PEP (Philippine Entertainment Portal) that she had resolved to "lessen her gimmicks" since work always comes first. According to her, she doesn't go out the night before taping day, she doesn't have any vices, and she always stays sober to drive her friends home after a gimmick night.
ADVERTISEMENT - CONTINUE READING BELOW
But the ultimate proof of dedication to her work is moving out of her parents' house to be closer to her place of work. And living independently for Say means taking full responsibility, cleaning her bathroom included.
"Being independent is fun. Not a lot of people believe that I can survive, pero when they go to my house and see me do all the chores, they realize that I could do it pala," she proudly said.