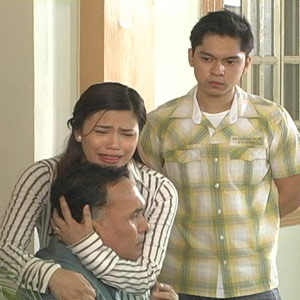 ---
A Tondo boy reforms his life for the sake of the woman he loves. See the power of true love when Carlo Aquino portrays the life of Ruben, a thug whose heart softened when he fell in love with Annette. Carlo is paired with Denise Laurel in the April 25 episode of Maalala Mo Kaya, which is directed by Dado Lumibao with a moving script by Arah Jell Badayos.
Maalala Mo Kaya
Airing Date: April 25, 2008
Director: Dado Lumibao
Writer: Arah Jell Badayos
Cast:
Carlo Aquino as Old Ruben
CJ Navato as Young Ruben
Mico Aytona as Old Buboy
Mark Joshua Sayarot as Young Buboy
Denise Laurel as Annette
Aleck Bovic as Aida
Leandro Baldemor as Marco
Marissa Sanchez as Fely
CJ Ramos as Carlo
Manggie Cobarubias as Annette's Dad
SYNOPSIS. Ruben, born and raised in the slums of Tondo, has always considered his life as incomplete. He was born without knowing his father and grew up on his own while his mother worked abroad. At an early age, he was exposed to crime, violence, and vices. Ruben learned to do illegal activities and had to live independently. He feared nothing and no one but God. Coming from a poor family, he was used to facing rejection and criticism.

This was his lifestyle until he met Annette, the only woman he asked from God whose life was completely the opposite of his own. In the past, his father's wealthy family refused to accept Ruben's mother, causing him much pain. Now, he is facing the same predicament since Annette's parents are now rejecting him for their daughter's sake. Yet, he did not let this problem lead to their separation. Instead, Ruben fought for his love until God finally gave him the answer to his prayer: Annette—the woman who completed his incomplete life.
ADVERTISEMENT - CONTINUE READING BELOW
Maalala Mo Kaya, hosted by Charo Santos-Concio, airs every Friday night on ABS-CBN.