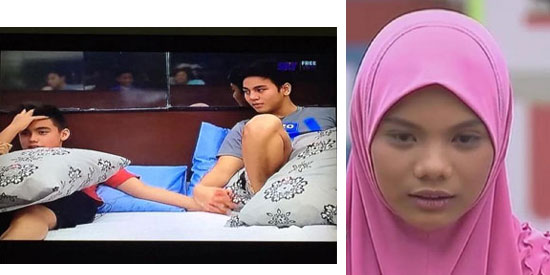 ---

How controversial is this year's Pinoy Big Brother–PBB 737--currently airing on ABS-CBN?
Just days after it started airing, it already received a letter from the Movie & Television Review and Classification Board, summoning the show's production team for a developmental conference to determine what measures the show has in place to protect the well-being of the housemates as well as its young audience. Apparently, the board has received numerous complaints about the show's content.
A "bromance" between an 18-year-old and a 12-year-old boy? That must be quite alarming. But ABS-CBN said it was only a malicious interpretation by netizens on the close friendship between two male housemates, which led them to stop the livestreaming broadcast of the reality series.

(Read: ABS-CBN decries "cyberbullying" being experienced by PBB 737 housemates Bailey and Kenzo)

"Ligawan" between the housemates? Not a good example for kids.
Amidst these controversies and considering the show's format and content, should parents allow their children to watch this program?


Here are 5 reasons why not:
It is ironic that the show is rated PG (Parental Guidance), and yet the housemates are not guided by parents inside the house. Of course, its fans would be quick to argue that Big Brother stands as the parental authority inside the PBB house. Moreover, it is a reality series about teenagers, so the presence of parents in the program would run counter to its goal. It got a PG rating precisely because the content, when watched by children, needs parental guidance. Is it responsible to subject these teenagers to situations that indeed need parental guidance when they are not in the presence of their parents? There's a reason why PBB 737, in spite of featuring teens, is in the late night time slot. Go figure.



Of late, teenage romance has been the subject of some TV programs (Bagito, Luv U, among others; and even primetime teleseryes now usually have love angles involving teenage characters) but these are fictional stories. The romance and courtships in PBB 737 are for real, not for reel. It involves minors, and yes, even a 12-year-old who's not yet considered a teenager. Would you be happy to hear your 12-year-old son swearing to a 16-year old girl, "I won't cheat on you" when as a parent, the kind of promise you would like to hear from your son at the very least is to obey your rules or to study well?



Social media went abuzz with the alleged "bromance" involving housemates Kenzo Gutierrez, 18 and Bailey Thomas May, 12. Netizens posted sweet moments of "Kenley": hugging, almost kissing, sleeping together and even talking about Bailey's stained underwear as souvenir for Kenzo in case the former got evicted. Nothing is wrong if these circumstances involve two adults. But even if those were carried out in jest and were nothing serious, Bailey is just 12 years old. As a parent, would you be delighted to see your young boy exchanging supposedly mature jokes with an adult?

(Read: PBB 737 housemate Kenzo Gutierrez asks for briefs of Bailey Thomas May as souvenir)
4. Young viewers often emulate what they see in mass media or social media. Would you like your child watching a group of teenagers discussing about love and relationships and professing their crush for each other? This happened to the case of Bailey professing that he loves Barbie Imperial while Kenzo has admitted that he has a crush on teenage mom Kamille Filoteo.


5. There's a proliferation of materials in social media that are not suitable for minors, and it is extremely difficult for parents to censor or control what their children see in this medium. Should the mass media be deluged with such content, too?
One of the most controversial episodes indicated that Fil-British boy Bailey asked Barbie: "Are you still virgin?" He said he was merely curious since he found out that the girl from Albay already had five boyfriends in the past.

(Read: Bailey of PBB 737 asks Barbie about her virginity; they exchange "I love you's" before Barbie is evicted)
ADVERTISEMENT - CONTINUE READING BELOW
On the other hand, we can also take something positive from the reality show. Here are 5 reasons why parents should allow their children to watch PBB 737 (but with their guidance, of course):


Some housemates are examples of loving children, often citing the desire to help their families financially as the reason why they joined the Kapamilya reality show. One such housemate is Jimboy Martin, the barrio rapper from Nueva Vizcaya. It is touching and heartwarming to see a kid as young as him with the goal of helping his family. That is a good example for children on how to love their parents.



Some of the housemates' stories are happy and inspiring, others are sad. If the parents could help their children be inspired by the happy ones (Kyle Secades' determination to lose weight and become a better version of himself, thus giving him bookings as a commercial model) and learn lessons from the sad ones (Kamille Filoteo's pregnancy at age 15), then we're all good here.



If there's a program on primetime TV that shows diversity, it is this. Ryan Bacalla, the 14-year-old gay teen from Cebu, could help teach viewers about gender sensitivity. Someone who could teach viewers about religious tolerance and respect is 13-year-old girl Ailah Antopina who is a Muslim. The 12-year old half-British, half-Pinoy Bailey and the 13-year old Ylona Garcia who was born and raised in Sydney could be examples of cultural integration and assimilation.



The challenges posed on the housemates are creative and give the housemates the chance to improve themselves. In one task, the housemates were assigned to take care of rabbits, giving them the chance to take responsibility for pets. Even the "punishments" imposed by Big Brother are out-of-the box but they do get the point across. For instance, Bailey once had to wear an oversized speaker costume and carry a megaphone because of violations with his microphone.



It shows the maturity levels of children nowadays. Ylona earned the admiration of viewers when she gave sound advice to Bailey when he committed the blunder of asking Barbie about her virginity.


PEPsters, do you think parents should or should not allow their children to watch PBB 737?

Share your thoughts in the comments section below.


Ed's Note: The "PEP Review" section carries the views of individual reviewers, and does not necessarily reflect the views of the PEP editorial staff.