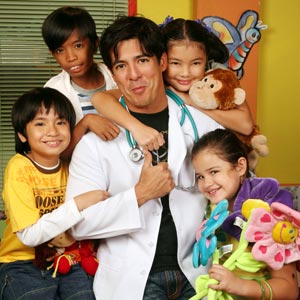 ---
After airing for the past eight months since August 5, 2007, That's My Doc will now be seen at an earlier time slot. Beginning April 26, Dr. Agaton Abogado (played by Aga Muhlach) joins the all-new ABS-CBN Sabado Guwapo line-up.
ABS-CBN business unit head Alou Almaden says that this move is done to meet the needs of their target market. "Since we're moving to an earlier timeslot, it's going to be at 6 o'clock, it's really going to be targeted for family viewing. The reason why we added more kids, we went back to our original plan, for That's My Doc to be a family program."
This suits the stars of the show especially since some of them are parents with young children who need to go to sleep early. Aga, Pokwang, and Bayani Agbayani reveal that their kids were hardly able to watch the sitcom when it was still being aired on late Sunday nights.
ADVERTISEMENT - CONTINUE READING BELOW
"Bihirang-bihira sila makapanood," admits Aga. "Because they wake up really early, e, and they sleep early. They sleep at eight p.m. and wake up at six a.m."
In That's My Doc, the people of Brgy. Tabuneknek benefit from the new center for kids to be opened by Doc Aga (Aga Muhlach). He is heading this project with the help of his girlfriend Greta (Lara Quigaman) and her aunt Ocs (Nova Villa).
Aga's archenemy Major Ret (Roderick Paulate) also helps out by offering his sporting goods store as a site for the planned center. Little did everyone know that it was all part of Ret's plot to win the support of the neighborhood and have a sure win in the upcoming barangay elections.
Meanwhile, Butching (Celine Lim) will also have a new set of playmates with the arrival of the new kids in the barangay to be played by Jairus Aquino (Lem in Kung Fu Kids), Sophia Baars (Lavinia in Princess Sarah), and Carlo Balmaceda (Bronson in Kasal, Kasali, Kasalo).
ADVERTISEMENT - CONTINUE READING BELOW
That's My Doc stars Aga Muhlach, Nova Villa, Roderick Paulate, Lara Quigaman, Bayani Agbayani, Pokwang, and Celine Lim. Don't miss That's My Doc, in its new time slot every Saturday, 6 pm, after Cinema FPJ: Da King on ABS-CBN.