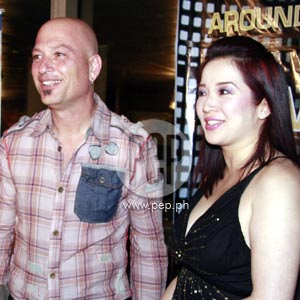 ---
With over sixty franchises in different countries around the world, the popular game show Deal or No Deal embarks on a world tour that aims to show American audiences how the game of chance is played on the other side of the globe.
In the Philippines, Kapamilya Deal or No Deal aired for two seasons before giving way to Kris Aquino's other game show Wheel of Fortune. The celebrity host once again flashed the thumbs-up sign for a special episode that pairs her with Deal or No Deal U.S. edition host Howie Mandel.


Mandel was in Manila from April 22 to 25 to film his adventures as he sampled local cuisine, interacted with Filipinos, and shopped for souvenirs.
THE REAL DEAL. As part of the two-hour special titled Deal or No Deal-Around the World, Mandel taped episodes in three countries (Estonia, South Africa, and the Philippines) where two American contestants will play according to foreign rules but with briefcases still containing U.S. dollars.
ADVERTISEMENT - CONTINUE READING BELOW
In a press conference organized by ABS-CBN last April 22, Kris and Mandel expressed their excitement over working on the special episode. Both hosts revealed that they went over several DVDs of each other's shows, and got hooked right away.
On working with Howie, Kris shared, "I really felt, wow, this is so exciting, knowing that his show still currently rates number one on primetime. Papasok na sila sa fourth year nila, and he's still number one. It's so good to be with somebody who is that loved in America."
Mandel said that he is equally excited to start the project. "We added your flair, your culture... We'll watch you play with the contestants, we'll watch the flavor of the Philippines. It's so exciting, and it makes me even more excited to be here, and to share your excitement, your culture, and your game with our people in America. They're gonna love it."
ADVERTISEMENT - CONTINUE READING BELOW
When asked about what she loves about the U.S. version, Kris Aquino said that in the other show, it's all about eye contact. "So you can really relate to the player. But that's because they have an hour and we have thirty minutes. That's what I wish we had."
Kris explained that in the U.S. show, Mandel is able to act as a kuya or mentor to the players, a privilege that she was unable to use because of the short airtime.
She also added that she knew she had to develop her own personality "kasi ayokong sabihin nila na ginagaya ko lang si Howie."
According to her, she gave a totally new flavor to the show by speaking in a fast, excited tone. "His version is a lot slower [because] there's more time there. So na-enjoy ko talaga yung sa kanya and I think that's why na-excite kaming lahat."
ADVERTISEMENT - CONTINUE READING BELOW
The celebrated game show host also revealed that her mother, former president Cory Aquino who has been diagnosed with colon cancer, was very excited as well.
"I just really want my mom to be happy and to be proud with whatever time that's remaining right now," said Kris. The game show host added that she agreed to do the special episode because she knows "that it would make Filipinos proud of what we Filipinos can accomplish."
The special episode of Deal or No Deal is produced by ABS-CBN under Alou Almaden's business unit and is directed by Bobet Vidanes.
According to Shannon Herlihy, Endemol USA Manager of Production, the Philippines was chosen to be part of the world tour because Endemol found it "awesome and fun." The special episode—which targeted Asia, Europe and Africa—will be aired in the United States on May 7.