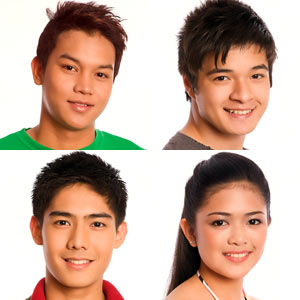 ---
After spending more than a month inside the Pinoy Big Brother house, the teen housemates underwent their fourth nomination night last Sunday, April 27. Beauty, however, was the only one who was considered safe during the nomination since she won immunity together with her Mommy Carina.
After an initial chat with the teen housemates and the Guardians, PBB Teen Edition Plus host Luis revealed that four teens are nominated this week.
Luis first announced who among the housemates got the highest number of votes from the Guardians. This new policy was introduced by Big Brother a few weeks back in order for the public to have a deeper understanding of the teens' true personalities. The unlucky teen housemate was Robi, the True Blue Atenista. He got a total of 5 votes from the remaining 7 Guardians who thought that the boy didn't need to participate in Pinoy Big Brother Teen Edition Plus any longer because he already comes from a well-to-do family.
Next to hear the bad news was Lethal Lasallite Josef who makes his third non-consecutive appearance in the list of nominees. He received 10 votes mostly because of his inability to adapt inside the house and his overly comic nature that apparently hurts the feelings of his fellow housemates.
Third on the list was the Gentle Giant of Bulacan, Jolas, who recently celebrated his 19th birthday inside the PBB house last Thursday, April 24. Due to his perceived lack of participation with the household chores, he received 10 votes as well.
Rounding out the group was Rona, the Positive Girl of Dumaguete, who didn't look too positive after hearing from Luis that some of her fellow housemates have a problem with her habit of complaining a little too much. She got seven votes as a result.
ADVERTISEMENT - CONTINUE READING BELOW
Mariel explained that usually, only three housemates would be nominated at a time, one as voted by the Guardians, and the other two, by the teen housemates. But since Jolas and Josef tied in their number of garnered votes, the teen to receive the next highest amount of votes would also included in the list.
Before being given a chance to appeal to their supporters, the four teen housemates all looked calm despite being slightly teary-eyed. Jolas called on his family and friends from Bulacan to help him out while Robi mentioned how he wanted to show "kung ano ang maibubuga ng isang Robi Domingo." Rona asked for support from those who believed in her, and Josef made the same request during the first and third nomination nights, but this time, it was evident that he was a lot more somber.
How will first-time nominees Robi, Jolas, and Rona handle their emotions after being nominated? Will Josef be able to evade eviction for a third time? Or is it "third time's the charm" for him? How will friendships inside the house be affected by the recent nominations?


SIKAT SA HAIRCUT. Following the outrageous hairstyles being sported by the male housemates, the "Sikat sa Haircut" contest is still ongoing. It is open to groups of friends all over the country. Big Brother is giving away P50,000 and a chance to have a billboard in front of his house to a barkada (minimum of 5 members) donning the coolest, hippest, and most extraordinary hairstyles. To join the contest, send in high-resolution pictures to the PBB house. The last day of sending entries is on May 10, 2008.
ADVERTISEMENT - CONTINUE READING BELOW
Stay tuned everyday to Pinoy Big Brother Teen Edition Plus Uber, 5:15 pm, and Pinoy Big Brother Teen Edition Plus Primetime, after Lobo on ABS-CBN. You may also watch the housemates and Guardians on Studio 23, 12:00-2:00 p.m.