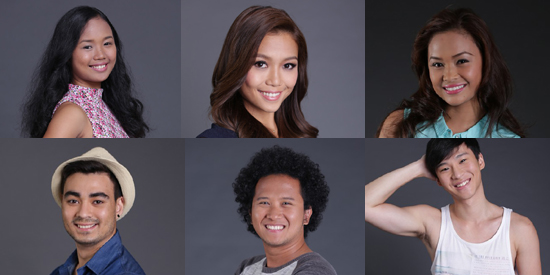 ---

Six new regular housemates entered the Pinoy Big Brother house last August 9.
The first housemate introduced during the episode was Richard Juan, the "Charming Chinito ng Paranaque."
Richard, 23, is a model and an events host. He was previously known as Richard Hwan when he joined Eat Bulaga's competition "You're My Foreignoy" and won the title as Dabarkads' Choice.

He is pure Chinese but his grandfather is a war veteran in the Philippines during the World War II. He was born in the country but had to move to Hong Kong when he was only one month old because of their family business. He also described himself as a shy person. "It didn't feel natural to be interacting with so many people."
Host Toni Gonzaga asked Richard, "Ikaw pala yung tipo ng tao na may pagka-loner?"
Richard then clarified, "Loner talaga? Introvert naman siguro. Dati."
And when Toni asked him if he's ready to meet people inside the famous yellow house with different personalities, he answered, "I think I'm more than ready actually. By coming to the Philippines, parang it made me more outgoing and extrovert so siguro more than ready na 'ko, feeling ko."
The second housemate introduced was Krizia Lusuegro, who is dubbed as the "Madiskarteng Inday ng Iloilo."
Born in Iloilo, 24-year old Krizia transferred to Bacolod because of her job as a volunteer nurse.

She shared that everytime she goes in her hometown, she feels excited because "iba talaga yung andun yung nanay mo saka kapatid mo." She also makes sure that, in her words, "hindi po ako pabigat sa pamilya ko" in spite of her not having a stable job. She also has a canteen business.
When Toni asked her if how will she apply her profession inside the house, Krizia answered, "Siguro po sa paggawa ng gawaing bahay voluntarily po na hindi na 'ko maghihintay na utusan pa. Ako na po yung mag-i-initiate kung ano na po yung mga pwedeng gawin pa."
ADVERTISEMENT - CONTINUE READING BELOW
The third housemate to enter the PBB 737 housemate was the "California Dreamgirl ng USA" Jessica Marasigan.
Jessica, 21, is a working student who lives in the United States. She shared that growing up, she had eczema, a skin problem – a reason for her to get bullied during her younger years. But she will always give credit to her parents for making her accept for who she is. "My parents are my bestfriends. They kept telling me to smile a lot, just be confident." Her confidence paved the way for her to join Miss Philippines USA and Bb. Pilipinas USA.
The fourth housemate introduced was James Linao, the "Worldwide Worker ng Surigao."
James, 30 years old, is dubbed as a worldwide worker because he has already gone to several countries for work: Abu Dhabi, Qatar, Singapore, Vietnam and lastly, Japan.

Through his hard-earned money, he was able to finance his younger sister's education and he was able to buy their house. He also acts as the head of their household after their father--radio commentator Godofredo Linao Jr.--was shot dead in Surigao del Sur in 2009.
James then shared to Toni that he thinks it will be easier to get along with the people inside the PBB house compared to other nationalities he worked with in the past.

He reasons out, "Sa ibang bansa, iba't ibang lahi sila, which is sila yung kailangang pakisamahan. Siguro sa loob ng bahay ni kuya, hindi masyadong mag-e-effort na mag-communicate sa kanila kasi sila naman lahat siguro ay nagsasalita ng Tagalog at Pilipino."
The fifth housemate who entered the PBB House was Miho Nishida, tagged as the "Sexy Mommy ng Japan."
The 22-year-old housemate worked in Japan as a Guest Relations Personnel.

Miho was born in Angono, Rizal but had to transfer to Japan together with her mom when she was three years old. Unfortunately, she wasn't able to finish school because she prioritized gimmicks. She was 15 years old when she had her first taste of alcohol. But the biggest challenge she encountered was when she got pregnant by the age of 16. The worst part was when the father of her baby left her. Now the single mother just wants her child to grow up to become a good, responsible man.
ADVERTISEMENT - CONTINUE READING BELOW
The last housemate introduced was the 21-year old Philip Lampart, who is tagged as the "Determined Daddy ng Australia."
This half-Filipino, half-Swiss housemate transferred to Australia when he was three years old, after his mother got separated from his alcoholic father. In Australia, he worked as a construction worker.
It is also in Australia where he found the love of his life. Philip recalled that when he first saw her inside a mall, he got stunned. After months of dating, his girlfriend unexpectedly got pregnant. Now, he is determined to give his one-year-old son a better future.


(To learn more about the regular housemates, read: Twelve regular housemates to join PBB 737; teen housemates elect Franco Rodriguez as mock Big Winner)



LITTLE BIG SURPRISE. Before Toni introduced Philip, the PBB host was already dropping clues about a twist that she calls a "little big surprise."
It was then revealed that Philip would be entering the PBB house with his one-year-old son!
This is the first time that this will allowed in any season of ABS-CBN's reality show.
Before Philip entered the house, Big Brother first talked to him inside the confession room together with his child Romeo and partner Robbie.

With regards to his task, Big Brother instructed him:
"Philip, being the determined dad that you are, I know that you strive to do the best for your family.
"It's a value that I wish all my housemates to learn.
"That is why I have a task for you. During your stay in my house, you will also bring your son, Romeo, with you.
"Which means, it will be up to you to take care of him.
"Dahil sa task na ito, masusubok din ang aking ibang housemates kung paano sila tutulong sa'yo sa pag-aalaga kay Romeo."
Big Brother also announced that Robbie will be given the special privilege of staying inside the house to take care of Baby Romeo's needs "when it is needed."
ADVERTISEMENT - CONTINUE READING BELOW
When Kuya asked Philip if he is accepting the task, the Determined Daddy ng Australia immediately answered yes.



EXCLUSIVE STREAMING. During this episode, the hosts announced that the exclusive streaming for PBB 737 housemates is back.
However, this time, it is only limited from 7:37 – 8:37 p.m. at PinoyBigBrother.com/livechat and from 7:37 to 10:00 pm on Sky Cable Channel 85 from Mondays to Fridays.
It will be recalled that the 24/7 livestreaming for the teen edition of PBB 737 was removed by ABS-CBN as its self-regulation measure after the "cyberbullying" experienced by housemates Bailey May and Kenzo Gutierrez (dubbed as Kenley).


Read: ABS-CBN decries "cyberbullying" being experienced by PBB 737 housemates Bailey and Kenzo