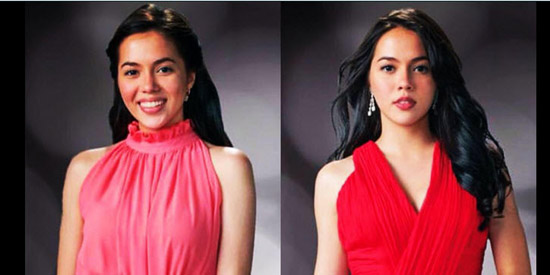 ---


Philippine TV drama has an abundance of stories revolving around twins with different fates, separate lives, and opposite personalities.

We've seen twin women (Kay Tagal Kang Hinintay starring Lorna Tolentino in 2002), twin boys (Sugo starring Richard Gutierrez in 2005), a girl with a twin sister made of water (Agua Bendita starring Andi Eigenmann in 2010) and a girl with a twin shadow (Luna Mystika starring Heart Evangelista in 2008). And let's not forget that some time ago, Claudine Barretto upped the game with Saan Ka Man Naroroon (1999), playing triplets.
It's an easy and convenient, yet mysterious and interesting plot device. What happens when two identical siblings get raised under different circumstances and values? How do they deal with conflicts and emotions concerning both of them? What if they turn out to be each other's nemeses?
Earlier today, August 24, ABS-CBN aired the pilot episode of Doble Kara, yet another kambalserye.

Julia Montes plays dual roles in the afternoon series, which airs weekdays after Flordeliza.

This is something big for Julia as she plays not just the lead character, but the twin lead characters: Kara and Sara.

No Kathryn Bernardo archrival and no co-star of Coco Martin-caliber. This time it's all her.

This is a challenge for Julia as it also calls to mind her stint in Mara Clara, a teleserye that could well be considered the mother of all possibly twins/baby-swapping soaps.

Doble Kara features elements borrowed from previous teleseryes about twins and babies.

Kara and Sara are born to a poor family but happy family. However, when Kara was diagnosed with leukemia, their mother (Mylene Dizon) was forced to give her up to her biological father Antonio (Allen Dizon), who is married to Lucille (Carmina Villarroel).

There are sets of infants being born on the same day to parents who have intertwined fates.

There's the close relative or family friend who knows the secret identities of the key characters.

There's the rich vs. poor upbringing for the twins. And of course, there's the love interest for the twins (with the possibility of swapping as the story progresses).
ADVERTISEMENT - CONTINUE READING BELOW
What makes Doble Kara different, and not an identical twin of previous kambalseryes?

We watched the pilot week, and like most of teleseryes today, the series starts with the childhood of the main characters—so it's hard to tell yet.
But from what we've seen, there's a hint of the good twin vs. the bad twin angle—but the storytelling is cleverly presented to blur which is which. Usually, it's the one who is exposed to a more abundant life who turns out to be the kontrabida and the one who's living an impoverished life becomes the good-natured, family-loving martyr.

At this point, it's safe to assume that both twins have good and bad qualities and whether they turn to the good or bad side is one thing we can look forward to.
Another key thing in the story is the usual theme of keeping a sensitive secret from key characters in the story. We are expecting characters to have a complete 180-degree turn once this secret is revealed.
The premise of Doble Kara is not at all unique, shocking or groundbreaking as far as teleserye storylines go, but the performances of the actors helped to give it a fresh perspective.

From the pilot week episodes alone, there are so many pivotal and tearjerking moments care of the emotionally charged and complex Mylene Dizon (who plays Laura, mother of twins Kara and Sara), and the quietly intense Ariel Rivera (Ishmael, Laura's husband).

Praise also goes to the fine young discovery, Avery Balasbas (the young Kara and Sara), who convincingly plays two different people girls with both skill and maturity. She also eerily looks, sound and acts like Julia Montes.
ADVERTISEMENT - CONTINUE READING BELOW
It's refreshing to see a character like Itoy (played with subtlety and control by John Lapus)—the gay kumare who is oftentimes the voice of reason—and not there as the token comic relief.

Carmina Villarroel also effectively grabs attention for her portrayal of Lucille, the ambiguous and mysterious character who can either be adored because of her maternal love or hated for her brewing instability. The wife of Allen Dizon's character has to deal with a tragedy involving their baby named Sofia.
Julia Montes' brief appearances as the grown Kara and Sara also prove to be a strong point in the first few episodes as she was able to generate excitement and clearly establish what separates her two characters apart.

It is also great to see Julia finally playing a titular character close to her age, someone with a young, kooky and carefree personality.
The pilot-week marathon ended with the heavily prompted Kara and Sara face-off after not having seen each other for years.

The way we're not sure what happens next is a good thing, considering the overused theme of the series.

What we do know is that rich and educated Kara is smart while good-hearted and family-oriented Sara was raised to be a strong fighter (and occasional troublemaker).

Will they make life hard for each other? Is this still a good twin vs. evil twin story?

On a lighter note, does Sara secretly hate Kara because only her name is in the title?

We'll have to see the next episodes to find out.

Directed by Jon Villarin and Manny Palo, Doble Kara will feature Edgar Allan Guzman and newcomer Anjo Damiles as the leading men of Julia Montes.


PEPsters, what can you say about the pilot episode of Doble Kara?


Ed's Note: The "PEP Review" section carries the views of individual reviewers, and does not necessarily reflect the views of the PEP editorial staff.
ADVERTISEMENT - CONTINUE READING BELOW