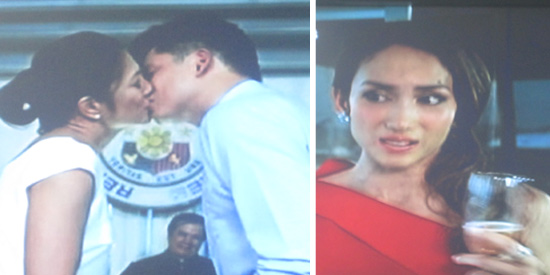 ---


TV remakes are double-edged swords.
Their built-in audience and name recall make it easy for networks to push them to the top of viewers' minds. The familiar characters and plots exude nostalgia—even sentimentality—that bring viewers back to happier, simpler times.


PITFALLS. But this familiarity has its pitfalls. Viewers compare and contrast every step of the way. The stakes are higher; the demands are greater.
The story, characters and actors in remakes must equal (if not top) the show's preceding or original version. Otherwise, they suffer in comparison.
Remakes must also offer something new, different or updated, lest it lose its most valuable target market—the young, who comprise majority of the Philippine populace.

This is the challenge being faced by the 2015 version of the Mexican telenovela Marimar (which was originally topbilled by Marian Rivera and Dingdong Dantes).



TRANSFORMATIONS. Judging from its August 24 pilot episode on GMA-7, the Kapuso Network transformed the show into something not even Marimar's followers eight years ago can recognize.
The pilot episode opens with a sailing competition between the rich Guillermo and Aldama families in Subic, a tourist destination that was not part of the 2007 Marimar.
This alone will tell you a different version awaits viewers within the next hour of its telecast.
Mia Corcuera (played by Alice Dixson), the humble girl Don Gustavo Aldama (Zoren Legaspi) married, is a yacht janitress.

Not only is her occupation unique.
Even her name is modernized. Gustavo's wife in the 2007 version (played by Rita Avila) was named Lupita, not Mia.
The change of name is a nod to the times. For rare is a woman these days who answers to the name of Lupita. Mia is more viewer-friendly. More modern-day women can relate to her.



CONFRONTATION SCENE. The confrontation scene involving Mia and Gustavo's ex-girlfriend, the jealous, self-centered Brenda (Ina Raymundo), is too close a throwback to that famous wine-throwing scene between the rich Lavinia Arguelles and the poor but good-natured Dorina Pineda in Bituing Walang Ningning.
ADVERTISEMENT - CONTINUE READING BELOW
It clearly took off from Lavinia's razor-sharp remarks to fan-turned-rival Dorina in the movie and TV versions of Bituing Walang Ningning.

Brenda carries a wine glass as she approaches Mia, the woman who has captured the heart of her ex-lover Gustavo.

The dialogue used by the spurned woman, Brenda, ("You're nothing but a cheap, ambitious janitress!") is comparable to the oft-repeated line: "You're nothing but a second-rate, trying hard copycat!"

As expected, Brenda splashes wine on poor Mia.
The similarity is so glaring, you wonder why the series' think tanks seem to have maxed out their creative juices in this one. This scene failed in its intent to jolt or shock, simply because it was formulaic and cliche.
That's the problem with melodramatic scenes. They succeed when the approach is new and fresh, but fail when they get too close to the original.



WOMAN POWER. Gustavo's dream of teaching his unborn daughter to sail is a whiff of fresh air in what would have easily become a ho-hum situation. It's a toast to female empowerment, if you will.
It shows an enlightened view of what women in this day and age can do.
In showing gender sensitivity, Gustavo and Mia are depicting what enlightened parenthood is all about.
It's still too early to predict how Marimar will pan out. Its main characters, Marimar (Megan Young), and Sergio Santibanez (Tom Rodriguez) have yet to take their bow on screen.
The action has yet to start. But the foundation—which rests on modern-day settings, characters and views—is slowly taking shape.

The pilot episode of Marimar ends by showing Mia giving birth to her daughter, whom she chooses to name Bella Aldama.

Let's sit back, relax, and watch how this much-heralded primetime series will finally unfold.
ADVERTISEMENT - CONTINUE READING BELOW


PEPsters, what can you say about the pilot episode of Marimar 2015?
Ed's Note: The "PEP Review" section carries the views of individual reviewers, and does not necessarily reflect the views of the PEP editorial staff.