JM de Guzman stages his major television comeback via ABS-CBN's new afternoon teleserye All of Me.
The show also features Yen Santos in her first role as a leading lady, and Albert Martinez, whose last appearance was in the Bea Alonzo-starrer Sana Bukas Pa Ang Kahapon last year.
The series also marks the return of TV director Dondon Santos to ABS-CBN after helming GMA-7 shows (Indio, Prinsesa ng Buhay Ko, Kambal Sirena) for the past two years. His last Kapamilya show was Green Rose that aired in 2011.
The romantic-drama teleserye, which will air its pilot episode on August 31, is part of the Kapamilya Gold block.

All Of Me focuses the story of Manuel Figueras (Albert Martinez), who seemingly has the perfect life. At 50 years old, he has a flourishing career as a doctor and head of his own hospital. He also has a beautiful, loving wife (Ina Raymundo).
However, he decides to leave everything that he has live in isolation on an island when his wife died because of cancer.
He then meets Lena (Yen Santos), a girl who was stranded on his island after a raging storm. The two initially have a cat-dog relationship but they end up falling in love with each other.
The two decide to get married but their love story is cut short when, on the night of their honeymoon, a hired killer (Jordan Herrera) tries to kill Manuel.
The hired killer shoots Manuel, causing the latter to fall down a cliff.

Manuel lands on a magic portal that transforms him back to his younger self (JM de Guzman). He sees a fairy (MJ Lastimosa) who doesn't want to let him go, as she is afraid that he might expose the existence of the secret portal.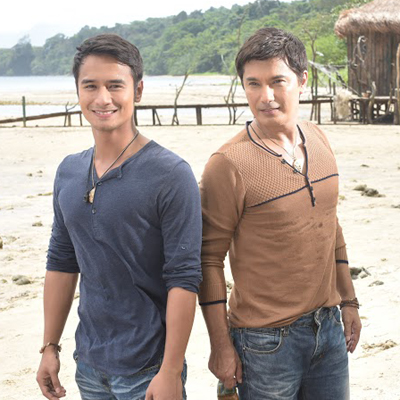 JM de Guzman (left) and Albert Martinez both play Manuel.

He begs with the fairy and convinces her to bring him back to earth. The fairy then gives a condition: she will allow Manuel to exit the portal, but he will look like his younger self and he cannot tell anyone else that he is Manuel.
Manuel agrees to the condition, and returns to earth only to find out that time has already advanced seven years later. Lena is now living a new life with Manuel's former protege Dr. Henry Nieves (Arron Villaflor).
How can Manuel win back his true love without revealing what really happened to him?
Here are 8 things to look forward to in the new Kapamilya show, All Of Me:


MJ Lastimosa appears in a teleserye for the first time—as a fairy.


One of the surprises during the pilot week is the appearance of Bb. Pilipinas-Universe 2014 MJ Lastimosa. In the series, she has a special role as the fairy who helps Manuel inside the magic portal.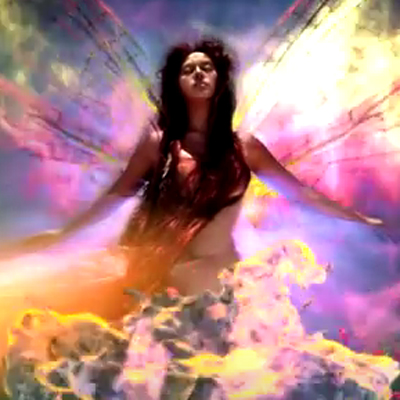 MJ Lastimosa as the fairy.

This is the first time that MJ will appear in a teleserye. However, she already made her acting debut when she portrayed her own life story in an episode of Maalaala Mo Kaya.
Is this a sign that we will see more of her in other TV shows? We have yet to see her acting chops in this series.



2. Dentrix Ponce's portrayal as the young Manuel.
Before we see JM and Albert in the role of Manuel, the series will show first a younger version of him, as portrayed by newbie child star Dentrix Ponce.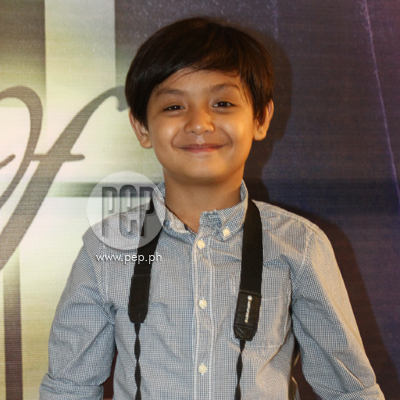 Dentrix Ponce
At a young age, Manuel already experienced tragedy when his mother (Angel Aquino) met an accident.
Manuel and a concerned neighbor rushed her to the hospital, but the nurse did not entertain them because they cannot give a downpayment.
The distraught boy recited what a friend-doctor (Jaime Fabregas) had told him before – that doctors should give selfless service to their countrymen without asking for anything in return.
A doctor heard Manuel and immediately admitted his mother. However, the assistance came too late and his mother died.
The performance of Dentrix was well-applauded during the advanced screening of the show at SM Megamall.
We look forward to seeing more of this talented child actor in the teleserye.



3. Capturing the mood of the '60s through production design.

Even though the teleserye being placed in the afternoon block, where budget is much tighter compared to a primetime series, All of Me still made an effort to make its flashback look believable.
The teleserye showed Manuel's story starting in the year 1965, when he was seven years old. The production staff was able to capture the '60s look – complete with hairstyles, costumes and accessories.
The director of photography also used sepia lighting to distinguish the difference between the periods.



4. Ina Raymundo and Albert Martinez's steamy love scene and touching scene.
In the teleserye, Ina is cast as Diana, the first wife of Manuel (Albert).
Albert and Ina, who both look good for their age, shot their love scene in a forest, making it really steamy.
One of the most touching moments of the pilot week is when Manuel discovers that Ina has terminal cancer.
It was painful seeing the dying Diana lying on Manuel's arms and hearing her ask him to find a woman who is "immature but sincere."
The situation of their characters is almost similar to what Albert had experienced earlier this year, when his wife Liezl died of cancer.
In a previous interview, Albert said that the project helped him cope with this tragedy because the story is "very close to home."
Read: Albert Martinez still struggling to cope with wife Liezl's death


5. Yen Santos combines charm with daring scenes.
Yen reveals in a previous interview that All of Me is her first daring role.
In the teleserye, she is seen wearing skimpy shorts and two-piece outfits.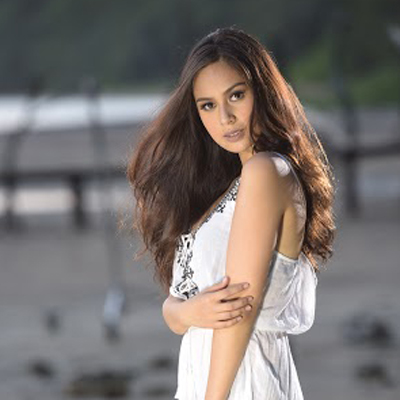 Yen Santos plays Lena

In addition, her character Lena is involved in a May-December affair with the 50-year-old Manuel.
Even though her character is daring, she balances with charm and wit, and it turned out to be an effective combination.
This is not the first time that she portrays a bubbly character since she did that in the 2014 primetime teleserye Pure Love where she played Ysabel.
We look forward to seeing how Yen will continue this blend of being charming and daring on the show.



6. Albert Martinez and Yen Santos have steamy love scenes.
Yen shows skin for her love scenes with her co-actors.
During the pilot week, the 22-year-old actress did it with veteran actor Albert Martinez, who is 32 years her senior.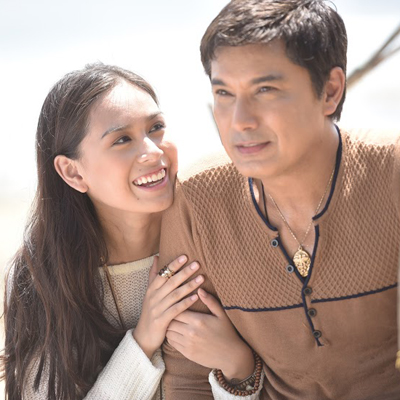 Yen Santos and Albert Martinez engage in a May-December affair in the teleserye.

But what's surprising is that the two showed chemistry in their kilig scenes, especially when they admitted their feelings for each other.
The kilig moments eventually lead to passionate scenes during their wedding and their honeymoon.

Yen and Albert had two love scenes – one by the seashore, and another inside a hut – which TV viewers should look forward to.
Yen even proudly said that both of their love scenes only took one take!
Read: Yen Santos shoots love scenes with Albert Martinez; says about leading man, "Hindi malayong magka-crush [ako]!


7. JM De Guzman's rendition of "All of Me" that will be heard during key moments of the series.
Viewers might experience "last song syndrome" with JM's version of John Legend's hit "All of Me."
Known to be the anthem for hopeless romantics, this song will make girls swoon especially when they hear his heartfelt rendition all throughout the series.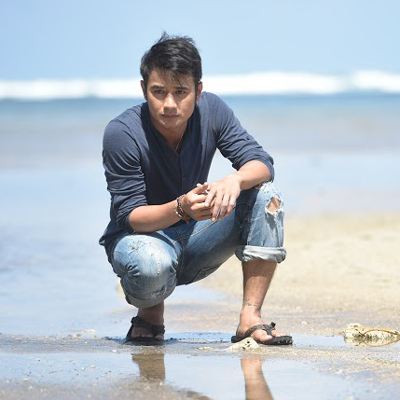 JM de Guzman revived the song "All of Me" for the teleserye.

Musical director Carmina Cuya also composed instrumental versions of "All of Me" as well as the musical score that add intensity to the scenes.
She also picks the right timing when using JM's version of the song that will add more "feels" to viewers.



8. JM De Guzman's television comeback.

JM has already proven his acting chops and popularity via his 2011 afternoon series Angelito: Batang Ama. It even spawned the spin-off, Angelito: Bagong Yugto, the following year.
However, he had a long hiatus when he dealt with personal problems involving his drug addiction.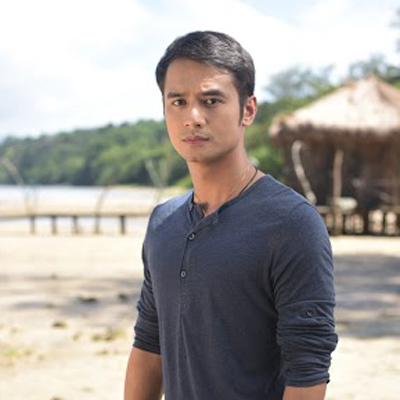 JM De Guzman stages major TV comeback via All of Me.

Late 2014, he was seen anew on television when he joined the cast of Piolo Pascual's teleserye, Hawak Kamay. JM was tapped back then to play Piolo's vengeful brother.
But what really catapulted him to stardom, yet again, is the movie That Thing Called Tadhana wherein he was paired with Angelica Panganiban. It had its commercial run last February.
This time, JM de Guzman gets another shot in showbiz through his own TV show.
His boyish charm could still be felt, as proven by the numerous shrieks heard during the advanced screening.
Through this project, JM proves that he deserves the second chance given to his career.

We look forward to seeing him showcase his intense acting in future episodes of All Of Me.



Ed's Note: The "PEP Review" section carries the views of individual reviewers and does not necessarily reflect the views of the PEP editorial staff.