Boy Abunda admits social media is affecting a TV format he knows inside out—the talk show.

That's why he and his colleagues must find a way to ride this wave of change in mainstream TV, or face dire consequences.
This year alone, two showbiz-oriented shows, GMA-7's Startalk and ABS-CBN's The Buzz, folded up.
"I decided to go now. Kesa dumating ang panahon na pinagtatabuyan ako.
"As an actor in the industry, you have to protect your own premium," Boy said in a presscon announcing his business partnership with GoodAh!!! at the restaurant's Metrowalk branch.
Boy agrees social media has diminished the audience of mainstream TV.
TRADITIONAL AND NEW MEDIA. Although he doesn't foresee the death of talk shows, Boy thinks it's time media people find a way of merging traditional and new media on television.
"We have to admit nagbago na ang lengguwahe, sourcing of news, at mukha ng nagbabalita."
Boy cites an example.
"Kung may gusto kang malaman tungkol kay Angelica Panganiban o Bea Alonzo, they will just post the answer [in their respective social media accounts]. There is no need to go to a presscon."
But TV networks and hosts need not lose hope. There's light at the end of the tunnel.
That light is the marriage of social media and mainstream television.
Boy observes, "In the U.S., napag-isa na nila ang social media and mainstream TV.
"In Wendy Williams' show, there is a portion 10 minutes before and after consisting of online materials.
"The show is available on mainstream TV and online."
According to Boy, American late-night TV host Jimmy Kimmel is changing the look of his show, and Ellen DeGeneres is reportedly reformatting.



ON ALDUB PHENOMENON. Closer to home, Boy cites the case of Maine Mendoza, a.k.a. Yaya Dub, whose viral Dubsmash videos opened many doors, the most popular of which is the AlDub loveteam with Alden Richards in Eat Bulaga.
He says about the Internet sensation: "Maine Mendoza is a superstar recruited by mainstream TV," he says.
Boy believes the AlDub phenomenon is a sign of things to come.
"We're moving towards the direction where both [social and mainstream media] have no choice but to co-exist."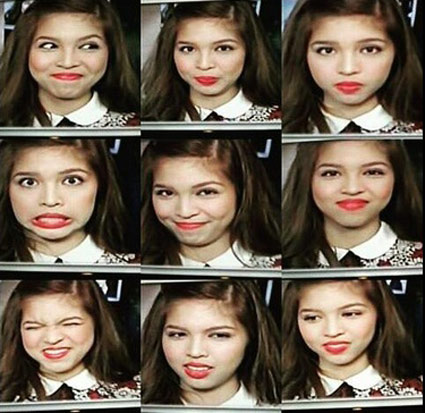 Maine Mendoza aka Yaya Dub
SOCIAL VS. MAINSTREAM MEDIA. Social and mainstream media, Boy says, are distinct from each other.
"Social media has no clear-cut business model.
"You can be a superstar on social media, but you don't earn your keep. That's what mainstream media, or TV has.
"Ang online digital universe, especially in terms of entertainment, wala pa sa level ng negosyo."
Some rappers and big stars online, he goes on, have not heard the merry ring of cash registers yet.
That's not all.
Boy thinks social media lack "komentaryo na may mukha."
Credibility is also an issue.
Boy says, "I'm not saying social media is not credible. But everybody has a take on everything."
A big part of the Filipino populace, he goes on, still turn to TV as source of information.
Still, Boy wants to make friends with social media, but on one condition: "I will only use elements I feel are useful to me as practitioner."
He's launching a website called theinterviewer.ph in two months' time.
Boy can't wait to express himself in this new personal platform.
"That's how I'm gonna leverage using my brand as I go into a social media platform."
BOY'S BISTEK. Meanwhile, Boy also enjoys expressing himself in the kitchen by serving his own version of bistek to his loved ones.
"My niece and I compared the bistek recipe of GoodAh!!! with mine.
"Iba-iba 'yan. May masabaw at may maanghang na bistek.
"At times, I want my bistek maanghang, so I put in more pepper.
"Kung gusto kong maasaim na maasim, I use calamansi."
Clearly, the dish is Boy's language of love.
"I'm not a cook. I will not pretend to spend a lot of time cooking.
"Pero sa bahay, pagdating sa bistek, ako ang nagsasabi na gusto kong magluto. Natutuwa ako pag kinakain ang luto ko at nasasarapan sila."
The owners must have liked the TV host's creation, because they included Boy's Bistek in the menu.
After all, as one of seven business partners in GoodAh!!!, Boy's opinion counts.
"I'm investing my life and my heart here," he says.
Because Boy loves this new adventure, don't be surprised if he invests in more restaurants someday.
POLITICAL PLANS IN 2019. Don't be surprised too, if he seeks a government post years from now.
"I may run for governor of Samar in 2019. I want an executive position.
"I don't find legislative work in Congress and the Senate seductive.
"I'm interested in a cabinet or executive position [in government], something within my core competency."
Yes, Boy doesn't rest on his laurels.
And those who make it a habit to check him out on TV will be there, watching him create new paths for himself.
In so doing, Boy ends up learning more, and keeping up with an ever-changing audience whose demands are getting bigger, as new media makes us behave in ways we never did before.