How do you replace a showbiz-oriented talk show that has run for two decades and has already made a mark on local pop culture?

GMA-7's Startalk, considered one of the longest-running programs in Philippine TV, recently bid goodbye to its loyal followers.

This is a big decision on the Kapuso Network's part to suddenly end the show that has made phrases like "Da Who?" a part of regular daily conversations, pioneered its own unique style of reporting through segments like Tigbak Authority, and more importantly, shook numerous weekends through explosive one-on-one interviews with guest celebrities.

To take its place, GMA-7 launched CelebriTV—a show being marketed by the network as an entertainment-oriented comedy talk show.

CelebrityTV, which aired its pilot episode last Saturday, September 19, is hosted by two of Startalk's main hosts Joey de Leon and Lolit Solis, plus returning Kapuso star, Ai-Ai delas Alas.

With Joey and Lolit still doing the hosting duties, is this another case of the quick and easy "same show, different name" tactic TV networks do to refresh its programs?

Observing the pilot episode, one thing is clear—CelebriTV is not a showbiz news and talk show that Startalk was.

CelebriTV is not the show to watch if you want breaking news about the entertainment scene (we now have the Internet for that—part of the reason of the obliteration of the showbiz news format on TV).

It is not even a full-blown talk show where hosts are expected to dig deep into their guests psyche to have a riveting conversation on their thoughts, opinions, ideas and feelings.

CelebriTV is light fare meant to entertain viewers—like having celebrities come over viewers' living rooms for a fun chit chat over snacks.

The Saturday afternoon show has two major segments: I-Talk Talk Mo with Joey and Ai Challenge You with Ai-Ai (no solo segment for Lolit, except if you count her signature "bati" time).

In Joey's segment, he speaks with Willie Revillame who brought along his dancers known for revealing costumes and gyrating dance moves in Wowowin. Joey asks, Willie answers—with us the audience witnessing pleasantries from friends who once were archenemies.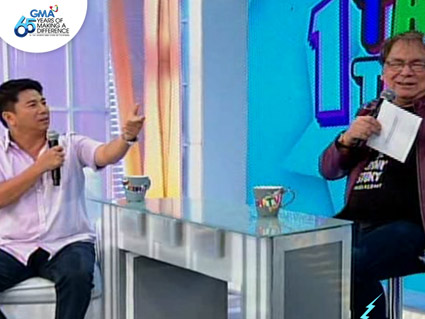 Willie Revillame (left) and Joey de Leon



In her segment, Ai-Ai talks to GMA-7's man of the moment Alden Richards—giving us a peak of Alden's weird food choices and the now requisite lipsync/dubsmash skills (and audience members volunteering to "mash" Alden's body parts).

Judging from the first episode, CelebriTV has dropped Startalk's style of provocative questioning and discussing entertainment news and intrigues. It is now a safe haven for celebrity guests who fear getting grilled on national TV. All they have to do is to entertain the audience by being silly, quirky and acting like regular human beings: accepting dares and participating in party games.

CelebriTV is adapting to this generation's shorter attention spans and targeting those who are fond of watching social viral content. It is catering to the social media crowd by posing challenges to celebrities to show their unpredictable side.
While this approach sounds fun and harmless, CelebriTV must watch for the tendency to become too lazy and shallow. It can border on mindless entertainment if it becomes just all about the guests' celebrity—not about their craft, not about what and how they think, but just plainly about their status, and their ability to make fans cheer by a mere wave of a hand.
CelebriTV is the kind of show that's built by the perfect blend of the skills of the hosts and the ability of the guests to be interesting and engaging.

On the pilot episode, we see it employing a fans day type of format where we see a different side to the personalities we see on TV.

In the succeeding episodes, we hope and expect to see more of CelebriTV's exposure of the different facets of Filipino celebrities—the sides of them that are real, smart, natural and different from the traditional talk show persona.

PEPsters, what can you say about CelebriTV? Share your thoughts in the comments section below.



Ed's Note: The "PEP Review" section carries the views of individual reviewers, and does not necessarily reflect the views of the PEP editorial staff.