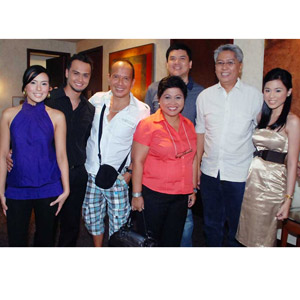 ---

For the past nine weeks, ABS-CBN has been introducing thepotential scholars of Pinoy Dream Academy Season 2via a segmentintegrated with the Saturday edition of Pinoy Big Brother Teen EditionPlus. This primer, hosted by Yeng Constantino, introduced the 32 PDAdreamers—with all of them giving the public a sample of their own brand ofmusic.
According to PDA business unit head Lauren Dyogi, over10,000 people worldwide auditioned for the second season of PDA.


This season's hosts are Toni Gonzaga, Nikki Gil and the newest Kapamilya starBilly Crawford. Toni will be seen hosting the primetime edition, Nikki willdeliver updates that will be aired two to three times a day, while Billy willbe seen in the afternoon update dubbed as Uberture.


The 16 PDA scholars will train under new Headmaster Ryan Cayabyab (whotakes over the reins from Jim Paredes); Performance Master Joey Reyes; UPCollege of Music Voice and Music Theater chairman and this season's VoiceMaster Kitchy Molina; and Voice Mentor Monet Silvestre.
One of the modifications of PDA Season 2 is theaddition of a live-in mentor who will be staying with the dreamers asthey train to be excellent singers. "I want to emphasize something new here in PDA.Merong live-in na mentor and that is Hagrid," joked Maestro Ryan Cayabyab.Hagrid is the kind giant who is part of the Harry Potter series. "SiTeacher Monet ang live-in mentor. This is something that you should lookforward to because this is a different take on the new PDA."
What are the mentors looking for in the new PDA grand stardreamer?
ADVERTISEMENT - CONTINUE READING BELOW
"Let's get real," says Direk Joey. "It's not enough that yousing well—you have to be a star. In other words, people you can sell. Do lookscount? Being good-looking counts definitely but if you are not exactly blessedby nature, then you won't be deprived of the chance to improve yourself. We arelooking at this in a very realistic manner.
"In the process of selection, we know those who have astrong chance of making it and that matters a lot in the auditions. Let's faceit, dito sa ating bansa, sa bawat kanto may magaling kumanta. Dito rin sa atingbansa, kailangan mong lumakbay sa mga probinsiya para makahanap ng isang star."
PDA headmaster Ryan Cayabyab explains the gradingsystem that the scholars will have to undergo when they enter the Academy.


"We all come from the academe. Kitchy, Joey, and myself, lahat kami nagturo.Among all of us, we could log in some 50 years in the academe. In fact, Monetwas my student in music composition while Kitchy teaches classical music in theUniversity of the Philippines College of Music.
"Sanay kami sa structure. When I talk to them, meron kaminggoals na sine-set at yun ang pupuntahan namin na goals. We will push them toget to those goals. Ang grading system nila ay based kung maaabot nila angstandards na sine-set namin. I talked to Lauren and I said I want adevelopmental curriculum."
Despite all these lessons and the training given by PDAmentors, they are quick to point out that real success depends mainly on thesinger.
ADVERTISEMENT - CONTINUE READING BELOW
LITTLE DREAMERS. Direk Lauren also mentioned thatthey are planning to come up with a junior version of Pinoy Dream Academy sothat children that are 6-10 years old may take advantage of the trainingoffered by the Academy. "Ibang teachers and magtuturo sa kanila pero HeadmasterRyan will check in on them from time to time. Pupunta sila doon [sa Academy] onFriday afternoon and on weekends. This program will start probably a monthafter the beginning of PDA."

Get to meet the lucky 16 scholars of Pinoy Dream Academy Season 2 bywatching the special casting week of The Dream BIGins that will run fromJune 9-13, right after My Girl on Primetime Bida. This will culminatewith the opening night of PDA that will be held live at the concert hall onJune 14, Saturday.