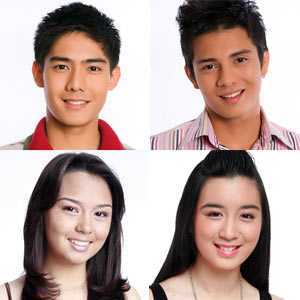 ---

Who will be the Big Winner in PinoyBig Brother Teen Edition Plus?
Robert Marion "Robi" Domingo, Ejay Falcon, Nicole "Nikki"Uysiuseng, and Christine Marie "Beauty" Gonzalez are all fighting it out to bethe successor of Kim Chiu, the Big Winner in the first edition of this realityshow.
Viewers have been following this ABS-CBN show to know thepersonalities of 14 housemates who lived inside Big Brother's house for75 days. Tonight, June 7, they will return to the outside world after takingpart in a grand production to be held at the Araneta Coliseum.
The fourth place winner of PBB Teen Edition Plus gets a cash prize ofP200,000, a laptop and a kitchen showcase. The third placer will receiveP300,000 along with a laptop and kitchen showcase. The second place winner getsa laptop, a kitchen showcase and a cash prize of P500,000.
The Big Winner gets a P1.5 million business package from theCrystal Clear water purifiying company, a laptop, a kitchen showcase, a 46-inchLCD television set, a condo unit and a million pesos.
Here is the list of the 14 teen housemates who have takenpart in Pinoy Big Brother Teen Edition Plus:
Alex Anselmuccio - 18, Italian Valentino of Milan
Christine Marie "Beauty" Gonzalez - 16, Rebellious Beauty ofDumaguete
Ejay Falcon- 18, Promdi Hottie of Mindoro
Jieriel Papa - 16, Bubbly Girl of Davao
Jolas Paguia - 18, Gentle Giant of Davao
Marc Josef Elizalde - 16, Lethal Lasallite
Kevin Flood - 18, Spanish Stallion of Madrid
Linda Backlund - 16, Bikini Babe of Iriga
Arnan "Nan" Clenuar - 17, Junior Kengkoy of Davao
Nicole "Nikki" Uysiuseng - 17, In-chick of Cebu
ADVERTISEMENT - CONTINUE READING BELOW
Priscilla Mae Navidad - 17, Deaf Dreamer of Davao
Robert Marion "Robi" Domingo - 18, True Blue Atenista
Rona Marie Libby - 16, The Prisoner's Daughter of Dumaguete
Valerie Weignmann - 18, Dazzling Doll of Germany
Watch the finale of Pinoy Big Brother Teen EditionPlus when it airs tonight on ABS-CBN.