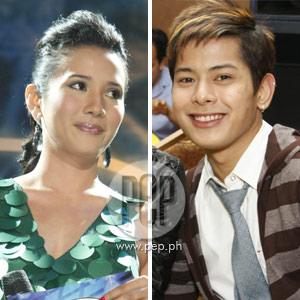 ---

Join the hosts of Studio 23's Us Girls as they lookat the business ventures of two young celebrities, Joseph Bitangcol andKarylle.
He started as one of the finalists in ABS-CBN's StarCircle Quest. Joseph Bitangcol had a dramatic life story notable forthe fact that as his family struggled economically, he made and sold barbecueon the street to help make ends meet. Now, he's a full-fledged star who hasalso tried his hand in managing a business with Stoodio Bar. Check it outon the June 8 episode of Us Girls.
Best known as the daughter of showbiz diva Zsa-Zsa Padilla,Karylle has already made a name for herself as a singer and actress. Now knowher as a business owner as Us Girls visits CenterStage, her businessventure with her celebrity boyfriend Dingdong Dantes.
Also on the show, Us Girls visits Pinoy DreamAcademy Grand Star Dreamer Yeng Constantino and gets her to share thestories behind her collection of guitars. There's also a profile of star sonPaolo Valenciano, who may just be getting ready to be the next big thing inmusic. Host Iya Villana shows you how you can treat your pet just like a celebrity. AndAngel Locsin dishes out how it feels to be chosen as the number one girl in amen's magazine's Hot 100 list.
Us Girls, hosted by Angel Aquino, Iya Villania, andChesca Garcia, airs every Sunday night on Studio 23.