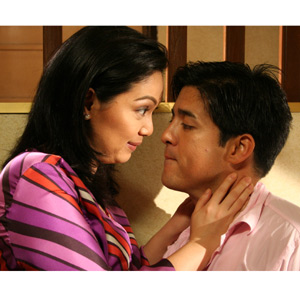 ---

ABS-CBN's movie cable channel Cinema One will air StarCinema's hit A Love Story on Sunday Cine Premiere. This movie about threepeople with a complicated love story will air on at 8:00 pm.
Starring Maricel Soriano, Angelica Panganiban, and AgaMuhlach, A Love Story is helmed by cinematic genius Maryo J. delosReyes. This is considered one of Star Cinema's biggest critical and commercialsuccesses in 2007. It also boasts of a casting coup along with Dante Rivero,Chin Chin Gutierrez, TJ Trinidad, RS Francisco, Carla Humphries, and JohnArcilla.
Written by Vanessa Valdez who also co-wrote the equallyimpressive One More Chance, A Love Story carries the famoustagline "In the greatest love affairs, there is a man...a woman...and a wife whocomes between them." Henceforth ushering to the intriguing catchphrase 'Who'sthe Wife, Who's the Mistress?' Suffice to that, with the movie presented in anon-linear manner and witholding key information, the movie leads to anunanticipated and astounding revelation.
Ian Montes (Aga Muhlach) is a picture of success. Despitebeing a son of a shipping tycoon, Ian refused to ride in his father'sempire. He built his own real estatecompany and earned his first million at a very young age. Driven by hisambition to become better, if not as good as his father, Ian managed to make iton his own. But behind all the glory is a man yearning for love andrecognition. Wounded from the abandonment of their mother when he was 17 anddesperate for his father's approval, Ian longed for someone who can and willlove him unconditionally.


He felt this twice when he met two women who would change his lifeforever-Joanna (Maricel Soriano) and Karyn (Angelica Panganiban). JoannaVillanueva is a picture of quiet confidence and success. Healing from a brokenrelationship with her ex-husband, Joanna found love again when she rescued Ianfrom a water skiing accident. Being a doctor, Joanna nurtured Ian,showered him with love and attention. With her, Ian found the home he sorelymissed and a bliss he never thought he'd have.


Then Ian met Karyn Torres; a sensual and worldly flight stewardess who filledhim with excitement and spontaneity and whom he found a side of life hehungered for. Both women left Ian with a choice and in the end, Ian, Joanna andKaryn learn the true meaning of unconditional love and forgiveness; but in themost painful ways.
ADVERTISEMENT - CONTINUE READING BELOW
A Love Story broke all box office records in 2007 andran for over five weeks in cinemas nationwide. It reflected the Diamond Star'sviability and ability to still capture a new generation of moviegoers. It alsoallowed Aga Muhlach to establish himself as one of the premiere leading men ofromantic dramas in local cinema.
Don't miss the Philippine television premiere of A LoveStory on June 15 at 8:00 pm on Cinema One Channel 56 in Metro Manila(available at SkyCable Platinum, SkyCable Gold, and SkyCable Silver) and otherquality cable operators nationwide.