One of the most iconic scenes in Marimar involves the kontrabida forcing the lead star to pick up jewelry from a mud puddle using only her mouth.

This pivotal scene is one of the cruel acts that will eventually prompt Marimar to plot revenge against her tormentor.

The 2007 and 2015 versions of Marimar had major differences when it comes to the reasons why the kontrabida made Marimar do such a humiliating act.



2015 VERSION. In the October 8 episode of Marimar, Marimar (Megan Young) is embarassed by both Senora Angelica Santibanez (Jaclyn Jose) and Antonia (Lauren Young).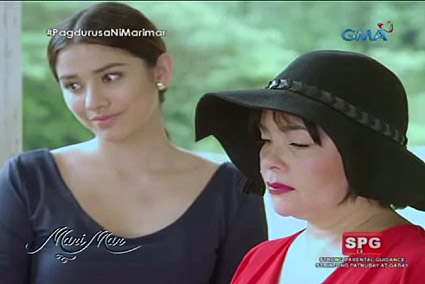 Antonia (left) and her mother Angelica


Marimar asks Angelica and Antonia to withdraw the case against her grandmother.

"Nakikiusap ako, lahat gagawin ko. Lahat ng iuutos niyo," pleaded Marimar.

Antonia rolls her eyes in the background while Angelica taunted her: "And the ulirang apo award goes to...Marimar!

"Sige, lumuhod ka."

Marimar asks, "Ho?"

Antonia retorts, "Bingi o tanga? Luhod!"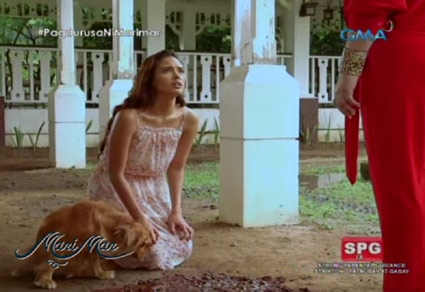 Marimar kneels in front of them while Angelica removed her necklace.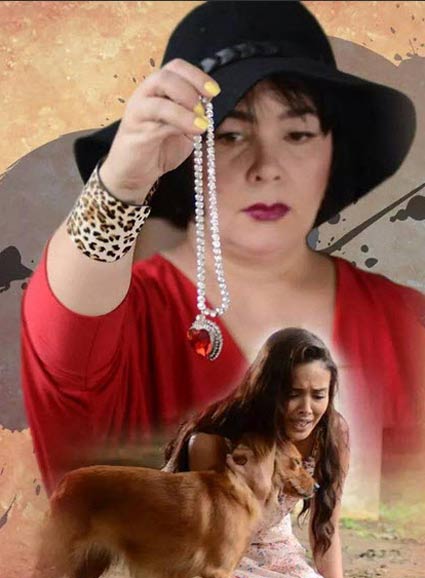 "Hindi ako ang klase ng tao na basta-basta nagpapatawad. Kapag may nagkasala sa akin, kailangan pahihirapan ko muna," said the cruel matriarch.

She then dropped the heart-shaped necklace in the mud and stepped on it as flies buzzed around them.

She instructed the hapless girl:

"Gusto ko kunin mo ang necklace ko gamit ang bibig mo."

Marimar paused as Angelica urged her, "Ano pang hinihintay mo? Baka maunahan ka pa ng mga bulate at uod na nakatira diyan sa ilalim ng putik.

"Ikaw rin ang demanda sa lola mo..."

Antonia insulted her by saying, "Do it, island girl. Time to dig in.

"'Yan ang nababagay sa mga taga-islang tulad mo."

Tandaan mo Marimar, ang mga putik ay nababagay lang sa mga kapwa niya putik.

"Kaya pwede ba, huwag ka nang mangarap na aahon ka pa diyan sa putik na pinanggalingan mo."

Angelica repeated, "Kunin mo na ang kwintas para makalaya na ang lola mo."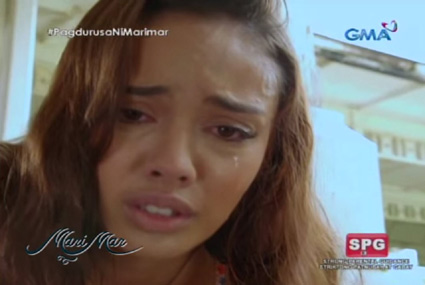 Marimar slowly lowered her face but Antonia became impatient and slammed her face into the mud.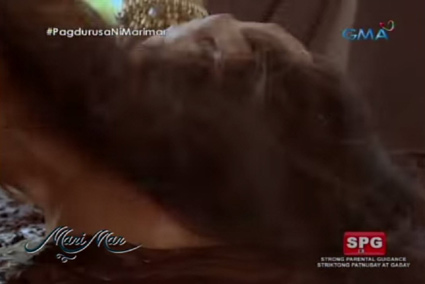 With her face full of mud, Marimar wept as she retrieved the necklace with her mouth.



2007 VERSION. In the first Pinoy remake, Marian Rivera suffered under Katrina Halili.

Wearing an equestrian outfit, Angelika (played by Katrina) is shown riding a horse when she humiliates Marimar (played by Marian).

Angelika asks Marimar if she is willing to do anything just to be with Sergio (played by Dingdong Dantes).

Marimar says she is willing to do anything so that she can fly to Macau and reunite with Sergio.

Angelika then gets off her horse, extends her leg and orders Marimar to kneel before her and kiss her boot.

Marimar bends over to kiss her riding boot.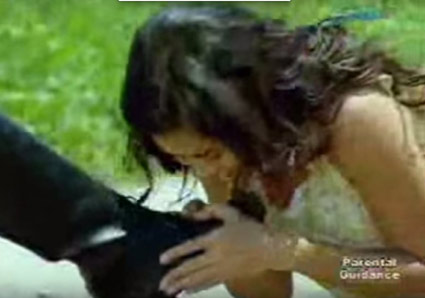 The kontrabida then shows Marimar's missing bracelet (which was a gift from Sergio).

Angelika suddenly drops the bracelet into the mud.

When Marimar tries to pick it up, the villain hits Marimar's hand with her whip and tells her that she can only get it with her mouth.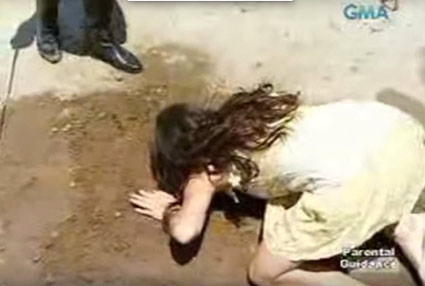 A tearful Marimar uses her mouth to pick up the bracelet and Angelika steps on her head to push her further into the mud.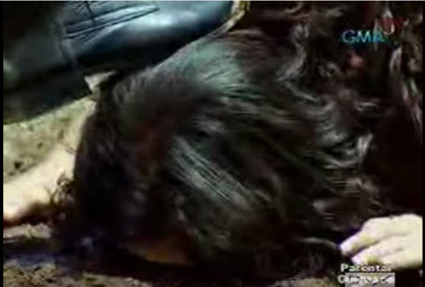 Not content with just degrading her, Angelika lies to the police by saying that Marimar stole the bracelet, which causes Marimar to be sent to prison.

Later on, Marimar became rich and she was able to get revenge when she instructed Angelika to use her mouth to pick up the key of her house in the mud.



PEPsters, who do you think gave a better performance in this scene: Megan Young (2015) or Marian Rivera (2007)?

Share your thoughts in the comments sections below.