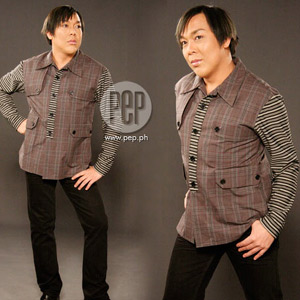 ---

It wasn't the prettiest ofstarts. But that only made success that much sweeter.
"Sulit ang hirap, ang pagod at sulit ang tinanggap namingpanlalait during our first few months. 'Di ba nilait kami, ang pangit daw, angtaas daw ng show namin. Ba't daw ganoon? Bakit daw ganyan? Bakit daw ganyanghitsura namin? Boring daw, ganito daw. And nakita naman din sa ratings, siguro'yong mga negative comments ng mga tao during our first months it must be truedahil ang baba ng rating namin," recalled Showbiz Central host JohnLapus when PEP (Philippine Entertainment Portal) interviewed him and the otherhosts during the pictorial recently held at the Studio B of GMA-7 in QuezonCity.
One year after and the once maligned showbiz talk show isnow one of the hottest shows to grace Sunday viewing afternoon. John admittedthat Showbiz Central's success was not achieved overnight. It was aseries of hits and misses leading to the perfect formula.
ADVERTISEMENT - CONTINUE READING BELOW
John went on to enumerate the key ingredients that finallymade the show a winner: "Hard work, patience and prayers 'yan ang perfectcombination."
TEAM EFFORT. Aside from those mentioned by Sweet, ShowbizCentral director Rico Gutierrez thinks that the different personalities ofthe hosts greatly complemented the image of the show. He points out that thegroup was an odd mixture. But it worked to their advantage and that's all thatmatters. After a dismal start Showbiz Central started faring well in therating game, eventually toppling its time tested rival.
"We established that," enthused direk Rico, "bawat hostmay distinct [characteristic]."
True enough, the diverse personalities of Pia Guanio,Raymond Gutierrez, John Lapus, Mo Twister, and Rufa Mae Quinto are enough togenerate interest-as colorful as the industry they are tackling and reporting.
But it still boils down to content and segments. Accordingto Direk Rico, showbiz talks shows have evolved throughout the years. ShowbizCentral also veers away from sensationalizing news items just to fan up theflames of controversy. Because after all, and despite the fact that they'redoing showbiz reporting, "It is still journalism," reasoned Direk Rico. Andwith that, the challenge is of course to strike that balance between fun andsubstance.
ADVERTISEMENT - CONTINUE READING BELOW
He was, of course, referring to the show's popularsegments, which in a way, revolutionized showbiz talk shows. There's Rufa Maeand Mo's Central Jury segment where celebrities take the hot seat to answertough questions, which ends with a tough one sealed inside an envelope.
"It takes guts din kasi to actually read that," heacknowledged. "But some of the questions are really, really outrageous. I mean,kung ako din ang [tatanungin] 'Are you guys sure itatanong ninyo 'yan?' Pero wedo respect naman 'yong mga artistang talagang, kung ayaw naman talaga nila...'Yong iba they say yes 'yong iba naman they just don't want to involved theothers."
But the one that really caught the public's fascinationwas John Lapus's Don't Lie To Me segment. Strapped on a chair while completelywired up to a lie detector machine, celebrities are grilled by John Lapus withtheir answers being assessed by an inspector.
"It's a crossover from all classes na available. Kasiparang equal footing lahat so parang kahit sosyal ka, nakakatuwa, e. Kasi maytsismis factor ka na, natutuwa ka pa kapag nagsisinungaling," explained DirekRico on the success of John's segment.
ADVERTISEMENT - CONTINUE READING BELOW
Despite their success, the entire team is not sitting ontheir laurels. Lasting for a year on top is indeed a great achievement. Butthere is still more that needs to be done.
Direk Rico expounded, "We're still thinking of fresherideas. We're not just banking on that [the success of the segments]. Becauseeverything that you see now is just a novelty and later on it will just gonnadie. Kami we all think alike e, why do you have you wait pa? Kailangan mas maybago so 'yon that's why I think we're on top of the game."
Click
HERE
to view photos of the
Showbiz Central
pictorial.