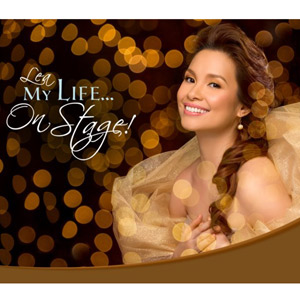 ---

Fans of Lea Salonga who were unable to watch her two-nightconcert at the Philippine International Convention Center will now be able tosee her grand performance on ABS-CBN. LEA, My Life...On Stage will beaired on June 15 at 10:45 p.m. as part of the Kapamilya Network's Sunday'sBest.
Watch Lea perform brilliantly with a full orchestra, singingsongs from her various stage performances and albums produced in the pastthirty years of her showbiz career. Photos and videos will also be shown toviewers, chronicling Lea's local and international career.
Produced by Ambient Events, LEA, My Life...On Stage washeld at the PICC last May 23 and 24. It is a collaborative effort between Lea,her brother Gerard who is the concert's musical director, the FILharmoniKaorchestra, and long-time mentor and two-time awardee for Best Stage Director,Freddie Santos.


This stage musical-concert traced Lea's three-decade career, from theater tofilm to TV commercials to recording and to the international stage, where shebecame known in renowned musicals such as Miss Saigon, Les Miserables,Flower Drum Song and They're Playing Our Song.


Stage performers such as Michael Williams, Menchu Lauchengco-Yulo, ChariArespacochaga, Robbie Guevarra, Raul Montessa and Annalyn Bantug performedmemorable songs from various productions such as "Sun and Moon," "Last Night ofthe World," "I'd Give My Life for You," and "Bui Doi."
ADVERTISEMENT - CONTINUE READING BELOW
Aga Muhlach was Lea's only showbiz guest who even announcedto the audience that his next film will be with the international singer. Ithas been 13 years since the two have appeared together in the film SanaMaulit Muli and to commemorate this fact, Aga and Lea performed a duet ofthe Gary Valenciano hit. Their first movie together was the 1992 romantic movieBakit Labis Kitang Mahal.


Click HERE to view photos of LEA, My Life...On Stage.