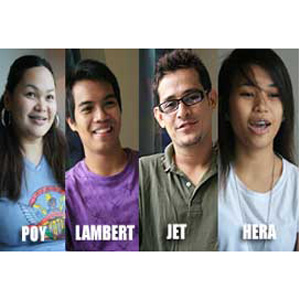 ---
During the Grand Opening Night of Pinoy Dream Academy Season 2, viewers were able to meet the lucky dreamers who will be able to hone their skills under the tutelage of renowned music and performance mentors. Headed by Maestro Ryan Cayabyab, the faculty of PDA is composed of Joey Reyes (Media Performance Mentor), Kitchy Molina (Overall Voice Mentor), and Monet Silvestre (Voice Mentor).


The fifteen scholars who are ensured a spot inside the Academy are: Hansen Nichols (The Cancer Survivor), Michelle Belmonte (a stand-up comedian), Jay Bogayan (The Farmer's Son), Van Louelle Pojas (The Teen Heartthrob), Jun Ross Dio (The Stylist's Son), Cris Pastor (The Singing Interior Designer), Miguel Mendoza (The Romantic Crooner), Beatriz Muñoz (The Sweet Chanteusse), Maria Liezel Garcia (The Pride of Puerto Galera), Apple Abarquez (The Different Couple's Daughter), Christian Alvear (Small Boy Wonder), Rafael " Iñaki" Ignacio Ting (The Stage Performer), and Laarni Losala (The Pride of Sultan Kudarat).


The couple Chivas Anton Malunda (The Student husband) and Jovannie Malunda (The Teacher's Wife) were also able to enter the Academy together. Will they be able to last until the end or will they go back to taking care of their son?


Dreamer Ma. Consuelo Osorio backed out at the last minute from the competition due to personal reasons. For this reason, management decided to have four wait-listed dreamers battle it out for the chance to enter the Academy. These are Hera Redoblado of Davao (The Fighting Davaoeño), Ranjit "Jet" Singh of Rizal (The Videojock), Catherine "Poy" Palma (The Obedient Daughter), and Lambert Reyes of Bulacan (The Singing Engineer). The four of them were given the chance to show their singing skills for the benefit of the audience.


After their performances, the mentors gave their comments on their singing style. Teacher Kitchy commended Hera for her strong voice but said that her tone for the song "Impossible Dream" was somewhat off-key. Teacher Joey wished that Jet could make it inside the Academy. Poy was also abel to show off her powerful vocals, according to Teacher Kitchy. But Direk Joey reserved special words for Lambert by saying, "Taglay mo ang talent, nandiyan pa rin ang pinakamalaking kayamanan mo."


Viewers have until tonight to send text votes to decide who among these four wait-listers will be the 16th scholar to enter the Academy.
ADVERTISEMENT - CONTINUE READING BELOW
The June 14 episode of PDA was also the last day when Teacher Monet Silvestre could spend time with his family in the outside world. Starting June 15, Father's Day, he would begin to live inside the Academy with the scholars.
Pinoy Dream Academy Season 2 airs every night of ABS-CBN's Primetime Bida.