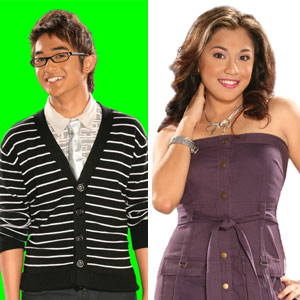 ---

The workshop phase of Pinoy Idol drew to a close lastSunday, June 15, after a four-week period. This marks the beginning of the galastage wherein the remaining Top 12 contestants will show their best for GMA-7'sreality-singing contest.


Last week's show tugged at the contestants' heartstrings, as Pinoy Idolpaid homage to dads everywhere with a Father's Day special. The contestantscarefully chose songs that reflect their love for their fathers withcompositions such as "I Turn To You," "Best Days," "You Raise Me Up," "MySacrifice," and "When I Need You." These songs came with waves of emotion andwere warmly dedicated to the paternal pillars of the home.
For the performance nights, the females took the stage onFriday, and the males followed on Saturday, celebrating not only Father's Daybut also the end of the workshop stage.
The Top 12, announced during the Sunday results night, willhave to face new challenges and will have to "move to a larger stage, where theaudience is bigger, the competition gets tougher, and the pressure is moreoverwhelming," said Pinoy Idol host Raymond Gutierrez as he opened theshow.
But despite a showcase of both high and low points in thecontestants' performances, the judges—composed of Ogie Alcasid, JolinaMagdangal, and Wyngard Tracy—were, for the most part, unimpressed.
Compared to previous weeks, last week's songs were not aswell received by the panel and were even exposed to criticism, ranging from theharshest to the most constructive.
By the end of the results night, JJ Jr. and Carol Leus endedtheir Idol journey.
The remaining twelve who will have to outperform one anotherin the gala performances next week are: Ram Chaves, Kid Camaya, Warren Antig,Robby Navarro, Daryl Celis, Toffer Rei, Penelope, Sue Ellen, Mae Flores, JayannBautista, Jeni Rawolle, and Gretchen Espina.
ADVERTISEMENT - CONTINUE READING BELOW
Watch these hopefuls belt it out on June 21 for theperformance night and on June 22 for the results night as Pinoy Idolwelcomes the gala phase on GMA-7.