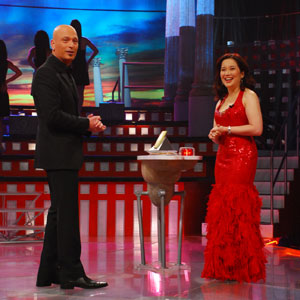 ---

As part of Deal or No Deal - Around the World, U.S. Dealor No Deal host Howie Mandel came to the Philippines to meet his localcounterpart Kris Aquino and shoot a special episode that would be shown on theAmerican channel NBC.


Last April 24, Howie co-hosted the special episode that wastaped in one of the studios at the ABS-CBN compound. On that day, the Americanhost led the 26K girls in riding a pedicab around the grounds of the Kapamilyastation.


In the Philippine portion of the two-hour TV special, two American contestantswere also brought to the Philippines to play the game according to the rules ofthe Philippine franchise called Kapamilya, Deal or No Deal. Thebriefcases, carried by the 26K girls, contained prizes in dollars following theU.S. version, which ranges from one cent to $1 million. American contestantsMike Levy and Patrick Hook were also treated to Pinoy delicacies such as sisigand balut during the Philippine segment of the show.


The special episode of DOND, which also featured segments shot in SouthAfrica and Estonia, aired in the United States last May 7.


Deal or No Deal - Around the World Philippines was produced by ABS-CBN under Almaden'sbusiness unit with Bobet Vidanes as director and Morly Nueva as executiveproducer. Filipinos will be able to watch this global episode when ABS-CBN airsthis TV special this Sunday, June 22, during the Kapamilya Network's Sunday'sBest at around 10 pm.