While watching Eat Bulaga's Kalyeserye, it would be easy just to focus on Alden Richards as he flashes his bedimpled smile while Dusmashing with Yaya Dub (played by Maine Mendoza).

However, there are other guys in the background who are just waiting to be noticed (and be given a part in the continuing saga).

They could represent the guys whom ladies might have met in the dating scene.

There are handsome guys who just might end up boring you and there are those with great personalities but are not gifted in the physical department.

If you're lucky, you could end with a Bae, someone with all the qualities that you're looking for in a man.
All in the spirit of fun, we've listed down types of guys you probably went on a date with at some point in your life, as represented by the unsung heroes of #AlDub.


1. The Rogelios.

Every woman wants to have a guy who will always be there for her through thick and thin, like Lola Nidora's Rogelios. This is the type of guy who is for keeps—trustworthy and reliable (well, most of the time). Deep down in your heart, you know that you can always turn to this guy for support, patience, and comfort even after you display a childish temper and throw a random tantrum.
Courtesy of Eat Bulaga on Facebook
2. The Bernardos.

No doubt, Lola Tidora's Bernardos are gorgeous. For some girls, dating someone who looks like a model is a dream come true. If you're lucky, you will get to date a guy with the physical attributes that attract you—whether you prefer a tall, dark, handsome guy or a cute fair-skinned chinito.
However, you'll have to dig deep in order to know more about their personality. You don't know when these guys will pop in and out of your life.
Photo from @corbinedmonds on Instagram
The Bernardos are played by Mercator models Kyle Perry, Corbin Edmonds, and Joco San Juan. Kyle and Corbin are Cosmo hunks who were part of Cosmopolitan Philippines' 69 Bachelors of 2015. Joco was also featured in the Cosmo Men supplement in 2007.
Courtesy of Cosmopolitan Philippines / @jjiral41 on Instagram
3. The Quandos.

At a certain point in your life, you broke all the qualities you're looking for in an ideal partner and went for this one.

Unlike Lola Tidora's Bernardos, Lola Tinidora's Quandos are the guys who do not match any of your physical preferences but are very much fun to be with. You can see their fun-loving nature, especially when they dance Mambo No. 5!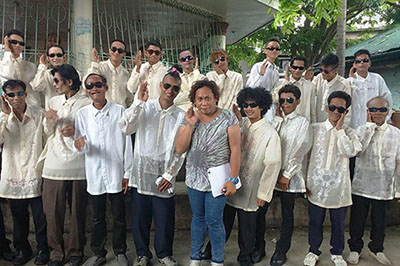 Courtesy of @QuandoBulaga on Twitter

4. The Riding-in-Tandem.

Your parents warned you about these guys—the mysterious bad boy types. These guys dangerous (in every sense of the word) but you're seduced by their secretive personality.
You've been dating this guy for a really long time but you barely know anything about him. You've been trying to figure out how this guy thinks and you enjoy doing it because you believe he will eventually reveal his sensitive side to you. You enjoy their company but these guys are really hard to catch (literally) and even harder to keep.
Courtesy of Eat Bulaga on Facebook

5. The Handsome Doctors.

The Bernardos set the benchmark high when it comes to the looks department. However, there are guys who do come with the complete package.

The handsome doctors who took care of Lola Nidora and Yaya Dub on the show represent your ultimate dream boy. You wouldn't have any second thoughts bringing him home to meet the family.
However, when dating these guys, there is no room for insecurity espescially when other girls hit on your man. You might have to extend your patience but he will be worth it.
Courtesy of @markmcmahon1 on Instagram / Screengrab from Eat Bulaga

Model Mark McMahon played the role of Dr. Tan-Ning who took care of Lola Nidora and Yaya Dub in the Kalyeserye. Other doctors who appeared on the second Yakie Wedding were played by models Erie Obsena and Philippe Escalamre.

All three were also included in Cosmopolitan Philippines' 69 Bachelors of 2015.


Courtesy of Cosmopolitan Philippines / @erieobsena on Instagram


PEPsters, what kinds of guys would you go for?

Share your thoughts in the comments section below.