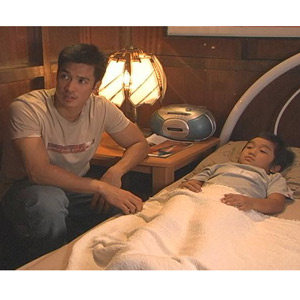 ---

The Father's Day presentation of Maalala Mo Kaya isabout an Overseas Filipino Worker who sired two children with two differentwomen.


Diether expressed his elation on being chosen to topbill this specialepisode. "Happy naman ako na ibinigay sa akin ang chance na ito na magingbida sa Father's Day episode ng MMK. I'm honored din na makatrabaho siDirek Jeffrey [Jeturian] whom I have nothing but praises to give and, of course, it'salways a pleasure to work with the staff of MMK, which remains to be the bestdrama anthology on TV now."


The Star Magic talent is paired with Angelu de Leon, who was his onscreenpartner in the 2000 movie Bukas na Lang Kita Mamahalin.

Watch how Diet and Angelu bring life to a story about a family torn apart bythe presence of a young boy named Nori. Portrayed by Star Circle QuestSummer Kids Grand Questor Quintin Alianza, Nori is dearly loved by his fatherand his half-sister, regardless of his origin.


Maalala Mo Kaya (June 20, 2008)
Director: Jeffrey Jeturian
Writer: Ruel Montañez
Cast:
Diether Ocampo as Alex
Eliza Pineda as Andrea (Alex's daughter)
Quintin Alianza as Nori (Alex's son)
Angelu de Leon as Ellen (Alex's first wife)
Eva Darren as Meding (Alex's mother)
Riza Santos as Reiko (Alex's mistress in Japan)
This is the story of Alex, Andrea's father, who worked inJapan to secure a better future for his family. There he had a sonnamed Nori with a Japanese woman, without the knowledge of his family. When hecame back to the Philippines, he brought Nori along and introduced him as an abandoned child tohis daughter Andrea . She treated and accepted Nori as herreal brother. She did not know that the love child was whyher mom, Ellen, left them.
ADVERTISEMENT - CONTINUE READING BELOW
Maalala Mo Kaya
, hosted by Charo Santos-Concio, airs Friday nights onABS-CBN.