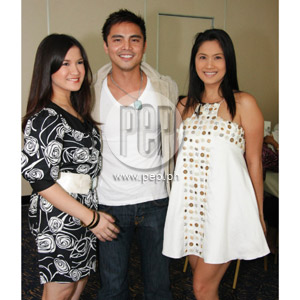 ---

GMA-7's senior vice president forentertainment Ms. Wilma Galvante couldn't have been more accurate when shementioned that the 1982 film Gaano Kadalas ang Minsan is considered tobe one of the most memorable movies in the annals of Philippine cinema.
Topbilled by the Star for allSeasons Vilma Santos together with Hilda Koronel and Dindo Fernando, the DannyZialcita megged film instantly made its mark in the hearts of viewers for itsstory of love, deceit and sacrifice.
With that in mind, it is notsurprising that the Kapuso Network picked the movie for its latest installmentof Sine Novela. For the TV adaptation,comebacking young actress Camille Prats will play the role of Lily while sexyactress Diana Zubiri takes on the part of Elsa. Portraying the character ofLouie—the man who is the center of Lily and Elsa's affection—is Marvin Agustin.
TORN BETWEEN TWO LOVES. GaanoKadalas ang Minsan is about a love triangle involving Louie, Lily and Elsa.
In the story, Elsa and Lily arebest friends despite their economic and social differences. Elsa's family ownsa hospital—the same hospital where Lily and her boyfriend Louie are employed asa nurse and doctor, respectively.
Unbeknownst to Lily, her bestfriend Elsa is harboring strong feelings for Louie, prompting Elsa to mapout a plan to separate the two young lovers.
The rich woman gains the chance to separate the two when she paves the way for Lily to receive an offer to work abroad. Overwhelmed by the opportunityto earn more money, Lily quickly grabs the chance despite Louie's strongprotest. The argument between the two eventually led to a separation. Alone andlonely, Louie was then drawn to Elsa.
ADVERTISEMENT - CONTINUE READING BELOW
Several months later, Lilyreturns to the country with the hope of being reunited with Louie. It proved tobe too late since her ex-boyfriend and her best friend were already bound toget married. Lily vowed to stay clear of their path and start her life allover.
Fate led the three back togetherwhen Lily's son Alvin was stricken with a fatal heart malady. The young boythen asked for the chance to meet his biological father. However, Lily couldnot grant her son's wish. Elsa, on the other hand, was physically unable tobear a child. Upon learning of Lily's dilemma, Elsa gave an offer for herformer best friend: she will lend her husband to pose as Alvin's father. Lilyaccepted.
Part of the set up is for thethree parties to live together in one house. Lily and Louie, the two formerlovers, will pretend that they're in love with each other for Alvin's sake. ForElsa, the proposal which she her self instigated, caused emotional turmoil when she shares her husband with Lily.
LIVING UP TO THE PART. Forthese Kapuso stars, they all admit that there's tremendous pressure in remakinga classic film, especially when portraying roles that are so identified withthe original actors.
According to Marvin Agustin, asan actor it is important to study the role and the treatment done previously.But it is also important that the one tapped to revive the role must understandthe value of instilling a new facet to the character.
"Like yong sa 'kin po, masagresibo yong ginawa kong atake sa role ni Louie compared dun sa original.Hindi naman po talaga namin malalampasan 'yong husay ng mga artista dun samovie version. Ang sa 'min lang, we made it a point to give our all while atthe same instill 'yong sarili naming interpretation doon sa characters," heexplained to PEP (Philippine Entertainment Portal) during the press conferenceheld last June 20 at the Mandarin Suites in Gateway Mall in Cubao, Quezon City.
ADVERTISEMENT - CONTINUE READING BELOW
Directing the TV version is GilTejada Jr., who agrees with Marvin's statement. "We remain loyal to the storyand its substance, of course," he said, "but 'yon nga, we also see to it nawe'd be able to present it in a way na maa-appreciate siya ng mga modernviewers."
Completing the cast are Ms. SandyAndolong, Maybelyn dela Cruz, Biboy Ramirez, Victor Aliwalas, Sweet Ramos, andByron Spark Ortile.
GaanoKadalas ang Minsan airs weekdays starting today, June 23, on GMA-7's Dramarama sa Hapon.