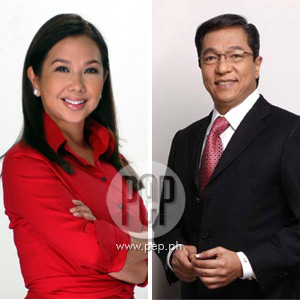 ---

The tandem of Ted Failon and Korina Sanchez returns on TV asthe veteran journalists anchor the newest weekly late night talk show, Harapan. They will separate truth from spin, give viewers a sharper take on thenews, and talk to public officials on the record.
Ted and Korina bring to late night their firebrand qualityof talk, for which their morning primetime radio program TambalangFailon at Sanchez on DZMM is known for.
According to Korina, their two decades as partners on radioand TV have made their work relationship akin to a marriage. "We completeeach other's sentences. In a way, he'slike a broadcast husband, but with no commitments," said the femalebroadcast journalist. "We wantchange when we know it can change. Butwe've also gotten old and wise enough to know you can't take life tooseriously."
"Shows come and go, but we are still here. It's hard to maintain a tandem through manyyears, but we've done it," declared Ted. "And moving that to TV will be a challenging innovation, so expectsome new things."
Harapan is a spin-off of Harapan: The Jun LozadaExpose, a no-holds-barred special talk show aired by ABS-CBN News andCurrent Affairs at the height of the NBN ZTE controversy. It marked the first time Lozada went on airand on record to face the major protagonists involved in the issue. It was widely watched and much quoted, withno less than Lozada himself referring to it as his 1 vs. the Mob moment.
ABS-CBN Head of Current Affairs and News Production LuchiCruz-Valdes says Harapan comes at a time when the country faces seriouspolitical and economic crises and is badly wanting analysis, synthesis, andresolution.
ADVERTISEMENT - CONTINUE READING BELOW
"Under a climate of brewing insecurity, the publicseeks straight answers to their questions, not empty assurances," says Ms.Valdes. "Not knowing who to believe, people look to the media to helpprovide these answers, to guide them toward making crucial, informeddecisions."
Ted and Korina are arguably one of the country's most successful teamups on radio and TV. They hosted the programs inDZMM such as Balitalakay (1990), Aksyon Ngayon (1991), and TambalangFailon at Sanchez (1994 to present). On TV, their fearless tandem is best remembered in Hoy, Gising!,the public service program that made government officials answerable to thepublic.
One of the show's highlights will be Ted and Korina'sseparate takes on the issue in focus—not unlike their trademark disarming, ifsometimes sarcastic, commentaries in their radio talk show. Add to that the visual elements oftelevision, and you can expect no less than fireworks.


In their first episodeaired last night, Ted and Korina sat down with those involved in the sinking ofthe MV Princess of the Stars of Sulpicio Lines. The ship, carrying over 700passengers, was bound for Cebu when it capsized off the coast of Sibuyan Islandin Romblon last Saturday, June 21.


Harapan airs every Monday after Bandila onABS-CBN.