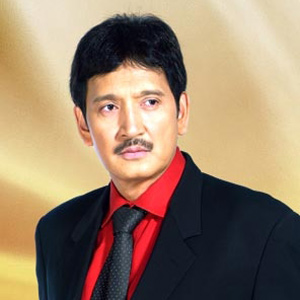 ---

ABS-CBN's Filipino movie cable channel Cinema One willshowcase a stellar movie retrospective on the late Action Prince and actingicon Rudy Fernandez every morning at 9:00 am until June 27.
One of the biggest stars and actors in Philippine cinema,Rudy Fernandez is known for being an action star whose acting style is distinctbecause the delivery of his dialogues is simply natural yet entirely incharacter.
Born in Manila, Rudy is the son of film director GregorioFernandez. He was three years old when he debuted in his first movie LuksangTagumpay (1956) followed by Emily (1960). Both hits were directed byhis father. But it was in 1970 when his film career formally started since heinked a contract with Sampaguita Pictures in this year. He initially starred inteen dramas like For You Mama (1970) and then paired with Connie Angelesin Sweet Matutina (1976). But it was a breakthrough performance in thebiopic of an infamous criminal, Bitayin Si Baby Ama (1976) that made hima certified action star and leading man. He gained fame even more with thesuccess of his next action blockbuster Ang Leon, Ang Tigre at Ang Alamid in1979, which was directed by his father.


They were followed by a string of box-office successes like Teteng Salongang Tondo (1978), Pepeng Shotgun (1981), Bagong Boy Condenado (1982),Sumuko Ka na Ronquillo (1983), Victor Corpuz (1987), VincentCrisologo Story, and Lagalag: The Eddie Fernandez Story (1994). Anumber of his movie titles even became street-smart colloquialisms that becameeventually embedded in Tagalog slang such as Tres Kantos (1982), MgaPambato (1982), Idol (1984), and Sarge (1984).


In Markang Bungo: The Bobby Ortega Story (1992), where he portrayed tocritical acclaim the incorruptible and dangerously snappy Baguio City PoliceOffice, it was where his famous and immortal line that became one of themovie's memorable quote: "Trabaho lang ito, walang personalan."
ADVERTISEMENT - CONTINUE READING BELOW
After starring in a variety of lead action roles, the Lubao,Pampanga native became known as "Daboy" in reference to his manly-gentlemanlydemeanor. Rudy Fernandez is indeed The Boy who busts that goons, guns down thewanted and maintains to be a one-man woman. His brilliance in acting wasrecognized when he bagged the FAMAS Best Actor Award for Batuigas...Pasukin SiWaway in 1984 and Victor Corpuz in 1988. He became the recipient ofthe Ulirang Artista Award in the 2008 PMPC Star Awards for Movies and the FilmAcademy of the Philippines FPJ Lifetime Achievement Award.
Cinema One's Rudy Fernandez Retrospective paystribute to a man who is considered by many as a pillar of Philippine cinema. OnJune 25, his movie Ping Lacson: Super Cop will be shown on Cinema One (Channel56 in Metro Manila). One of strongest contenders in the December 2000 MetroManila Film Festival, this Viva Films gem tells of how Police General PanfiloLacson rose from the ranks after his graduation from the Philippine MilitaryAcademy in 1971. It features his battle against kidnappers, car thieves andother organized crime, and the highlights of Gen. Lacson's career.

On June 26 will be Palaban. Rudy portrays Major Jack Morales whotogether with his group smashed the increasing incidents of criminal acts. Hewas assigned in a mission, to bust a notorious and violent gang who was engagedin robbing banks headed by ex-Major Raul Cordova (Roi Vinzon).

Finally, on June 27 will be Hula Mo Huli Ko. This action flick ispeppered with comedy since Daboy is paired with sexy comedienne Rufa MaeQuinto. They form a partnership built on combined fortune-telling, instinct andwit, law enforcement and luck. Rufa Mae's character predicts there will becrime while he becomes assigned to curb it.
ADVERTISEMENT - CONTINUE READING BELOW
Don't miss the Rudy Fernandez Film Retrospectiveuntil June 27 every 9:00 am only on Cinema One Channel 56 in Metro Manila(available on SkyCable Gold, Skycable Silver and other quality cable operatorsnationwide).