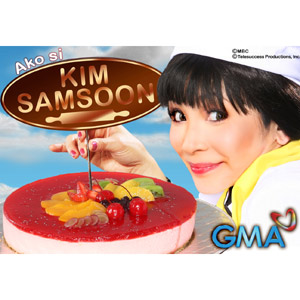 ---

As part of GMA-7's 58th anniversary celebration,the Kapuso Network presents the Pinoy adaptation of the Koreanovela My Nameis Kim Samsoon. This love story featuring a chubby pastry chef at afive-star restaurant will tickle the hearts of viewers and give them a healthyserving of comedy, bordering on slapstick.

Ako si Kim Samsoon, which premieres on June 30 on GMA-7's TelebabadBlock, is out to make viewers roll with laughter as it boasts a different kindof story about love, family, and beauty. The original Koreanovela was a big hitin the Philippines when it was aired on GMA-7 in 2006. This prompted GMANetwork officials to adapt this show, which was originally produced by MBC andTelesuccess Productions, Inc. in 2005.

Asia's Songbird Regine Velasquez will play the lovable character Kim SamsoonBuot, a baker-turned-pastry chef in her late 30's who will soon find out thatlove knows no age, shape, or size.

Playing her leading man in this comedy series is Mark Anthony Fernandez whoportrays the role of Cyrus. He is the handsome but snooty owner of thefive-star restaurant where Samsoon works. Wendell Ramos is Harvey, theweak-willed ex-fiancé of Samsoon. Nadine Samonte adds zest to the story whenshe plays Hannah, the beautiful ex-fiancé and first love of Cyrus. EugeneDomingo is Chef Dina, the head of the restaurant where Samsoon works.

The haughty mother of Cyrus, Mrs. Ruiz, is played to the hilt by former beautyqueen Carmi Martin. Showbiz Central host John "Sweet" Lapus adds comicrelief with his role as Marcus, the secretary of the domineering mother ofCyrus. Providing support for Samsoon is Sonia (Tessie Tomas), the mother of thestar baker of the show.

Completing the bitter-sweet and sometimes spicy life of Samsoon are JennicaGarcia, Mart Escudero, Pauleen Luna, Maureen Larrazabal, Sheena Halili, Dr.Hayden Kho, Mel Kimura, Marcus Madrigal, Dido dela Paz, Marky Cielo, ArthurSolinap, Stef Prescott, and Cheska Eugenio.

With director Dominic Zapata at the helm, the story begins at a time when KimSamsoon was struck by two tragedies: she was stood by her fiancé at the altarand her family suffered a setback when her family's bakery was gutted by fire.Samson then decides to apply as a pastry chef in a five-star restaurant whereshe crosses paths with the rich and arrogant Cyrus in a very unusual spot.While they are both inside a male comfort room, he gives Samsoon a lectureabout love and men. Not long after, Cyrus discovers her innate talent forbaking and hires her to work in his restaurant.

Cyrus, on the other hand, has his own set of problems. His domineering motheris pressuring him to get married as soon as possible. To avoid her nagging,Cyrus offers Samsoon to agree with his "love contract." The talented chef wouldpretend to be his girlfriend in exchange for a huge amount of money. The youngman was confident that he would never fall for a woman like Samsoon, somethingthat offended the lady chef. But in order to pay for her family's debts,Samsoon agreed with his proposal.

Will Cyrus and Samsoon both be brave enough to face the consequences of thelove contract? Will their plan still work even if both of their former fiancésare still part of their world? Can a gorgeous guy like Cyrus fall in love witha plump, boisterous girl like Kim Samsoon?

Regine Velasquez lends her singing prowess in performing "Maybe It's You," theoriginal theme song of the Koreanovela My Name is Kim Samsoon. Watch theaccomplished singer is this deglamorized role that even requires her to wear afat-belly suit created for this show.

The romantic comedy Ako si Kim Samsoon airs right after GMA-7's Dyesebelstarting June 30 (Monday).


Click HERE to view photos of the cast members.

ADVERTISEMENT - CONTINUE READING BELOW