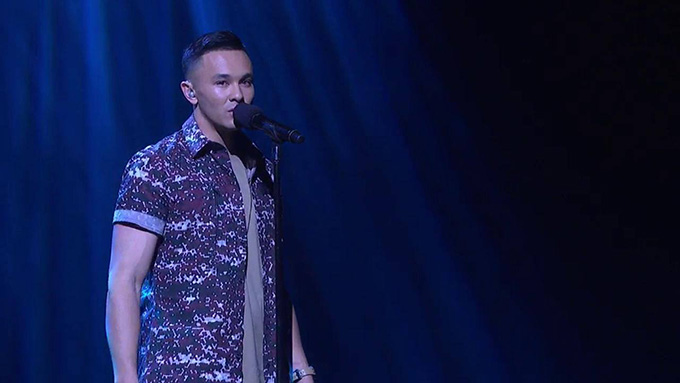 ---

Fil-Aussie Cyrus Villanueva moves on to the Top 5 of X Factor Australia.

After his well-received performance last week, he once again impressed judges with his rendition of Bob Dylan's "Knockin' On Heaven's Door" during the Live Shows on Monday night, November 2.
The song was chosen by Groups category mentor Guy Sebastian for the "Judges' Challenge" theme for the week. Guy commended the 19-year-old singer's "amazing" performance.
He said, "I was a massive Guns 'N Roses fan growing up and that was one of my favorite songs and the thing I love about that song is the ability to dig and really sing that from the gut.
"And you know what? You really did that. It started in all the right places.
"It was soft and subtle and beautiful and when you ended up, it just made me get out of my chair and do a dance. It was amazing!"
Over 25 category mentor James Blunt quipped that he has officially caught the "Cyrus virus." He said, "The question is not what can you sing but what can't you sing.
"You've sing every song we've heard actually amazing, you knocked them off the park every night. I think I have caught the Cyrus virus."
Girls category mentor Dannii told Cyrus to maintain this kind of performance for the rest of the season. She advised him, "We're looking at a performer who's not learning as they go. You are nailing it week after week. And sometimes this show just captures people in their prime and all the stars align.
ADVERTISEMENT - CONTINUE READING BELOW
"Cyrus, just keep doing what you're doing. Loved it!"
Boys mentor Chris Isaak was proud that Cyrus is continuing to grow as an artist. He said, "We all know you could sing and with this song I'm really proud to see you growing again because Guy had ideas for the arrangement of this song.
"I had ideas for the arrangement of this song, and you had, you came in the end, it was your idea and you stepped forward.
"And you said, 'This is what I want to do.' I love that, you're growing as an artist."
Meanwhile, Mahalia Simpson and Natalie Conway were part of the bottom two and went head-to-head on the Sing-Offs on Tuesday, November 3.
The judges were divided for Mahalia and Natalie with both singers receiving two votes each to be eliminated. For the first time this season, the result of the elimination was based on the earlier public vote. In the end, Natalie was eliminated for having the lowest votes.