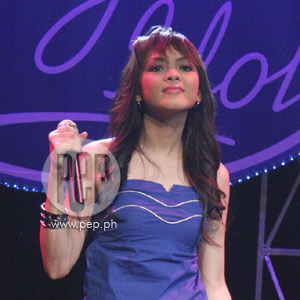 ---

The eleven contestants of Pinoy Idol aimed to showtheir love and affection to people close to them through heartfelt performancesdedicated to a person or group of their choice. Last week's theme was focusedon "Song Dedications," allowing the Idol hopefuls to express themselves throughtheir song choices.
The judges, comprised of Ogie Alcasid, Jolina Magdangal, andWyngard Tracy were, for the most part, generous in handing out good commentsregarding the improvement shown by the Idol hopefuls.
"Ram, ikaw lang ang performer sa competition na ito, na 'pagkumakanta ka, I am instantly hypnotized. I don't know how you do it. But keepdoing it. I can see you in the top, maybe Top 3," remarked Ogie, obviouslypleased by Ram Chaves' edgy take on "Banal Na Aso, Santong Kabayo" by Yanodedicated to every Filipino. "Keep us entertained," he advised.
Aside from Ram Chaves, 25-year-old Warren Antig also got athumbs-up vote from all three judges. Warren gave his rendition of "You GiveLove A Bad Name" and dedicated it to his Baguio-based friends, whom he advisedto stop their "kalokohan" and change their ways.
Ogie was all praises for Penelope's soulful rendition of "SoSick" by Ne-Yo. The female singer dedicated this song to her former roommateand fellow Idol competitor Jayann Bautista. "Palagay ko nakinig ka sa 'kin,"Ogie told Penelope. "This time bagay na bagay sayo yung kinanta mo."
"Your voice was clear, your enunciation was so...andun. Walaakong masabi," he added. "I enjoyed it so much. I'm proud to be a Batangueno,because of you. Good job."
Unlike Penelope, who got two out of three votes from thepanel, Toffer Rei did not fare too well. For his performance of "Changes In MyLife" which he dedicated to his girlfriend, Toffer only managed to get Jolina'syes vote and failed to gain the approval of the two other judges.
"I know this song is very special to you and your 'pare,'"empathized Ogie, referring to Toffer's girlfriend whom he fondly calls 'pare.'"However, I have to say it really lacks the punch and the power of yourprevious performances. This one was quite lame," he criticized.
ADVERTISEMENT - CONTINUE READING BELOW
Jayann Bautista, who dedicated a groovy performance of"Whine Up" to her female buddy Rachelle Ann Go, was also praised for hersurprising song-and-dance number. The judges were clearly impressed by theenergy she exuded.
"Palagay ko, ang problema mo lang tonight, may inhibitionska pa," mused Wyngard. "If you decide to do something like that, tanggalin mo100 percent [yung inhibitions mo]. Kung sasayaw ka, bigay mo na, itodo mo na.Kanina halatang-halata na medyo nahihiya ka, nag-aalangan ka."
Ogie agreed with Wyngard and said, "You looked a littlestiff on stage. Siguro you could've made your movements a little bigger. Youshould have excited the audience. Sana hindi ka masyadong nailang sa movementsmo," he told Jayann.


Twenty-year-old Gretchen Espina was on the brink of losing her voice thatnight, giving a raspy quality to her voice. Nevertheless, she was still praisedby the judges for her courageous take on "A House Is Not A Home." She dedicatedthe ballad to a childhood friend.
Daryl Celis crooned "Basta't Kasama Kita" for hisgrandmother and was lauded by the judges for his heartfelt number. "Yung emotions,yung feelings na binigay mo doon sa kanta, parang kinilig ako," admittedJolina.
Pampanga-based Robby Navarro sang "Someone That I Used ToLove" and dedicated it to "those people who have loved so much, pero hindinasuklian yung pagmamahal nila." But Robby was unable to amaze Ogie whodescribed his performance as a bit over-sung.
Kid Camaya sang "I'll Never Love This Way Again," which heoffered to his mother. He got Jolina and Ogie's votes but failed to impressWyngard.
Sixteen-year-old Sue Ellen dedicated Linkin Park's "In TheEnd" to her fellow Ilonggos, especially to those who have been affected byrecent typhoon "Frank." This time, it was Ogie who was not impressed by herperformance.
Wyngard was not impressed by Mae Flores's interpretation ofTina Arena's "If I Didn't Love You" dedicated to her older sister. "Last week,I remember pinuri ka naming tatlo. I even said, a star is born," recalledWyngard. "Ngayon, hindi ko alam anong nangyari sa 'yo. I'm very disappointed. Igot bored. You should make up for it the next time," said the veteran talentmanager.
ADVERTISEMENT - CONTINUE READING BELOW
But it looked like there won't be a next time for theMarikina-based contestant since the 18-year-old Mae Flores got the axe from theviewers during the results night. She got the lowest number of votes and wasplaced at the Bottom Group along with rockers Warren Antig and Toffer Rei.
Among those who witnessed the heartfelt performances of theTop 11 were icons of the music industry: Jett Pangan, Jamie Rivera, AizaSeguerra, and Rey Valera.
Catch another gala performance night on July 5 and resultsnight on July 6 as the search for the first Pinoy Idol continues onGMA-7.