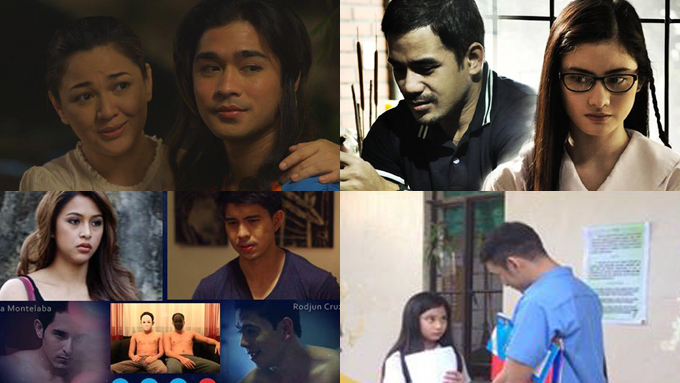 ---

Controversial stories of abuse and violence will be tackled in this week's episodes of Karelasyon, Ipaglaban Mo, Maalaala Mo Kaya, and Magpakailanman.
Here are the stories to be featured tomorrow, November 7, on ABS-CBN and GMA-7's Saturday drama anthologies.


"KAPIT SA PATALIM" ON KARELASYON. Rodjun Cruz topbills this GMA-7's episode of Karelasyon, which airs after Eat Bulaga!
Also starring Rodjun in this episode are Diva Montelaba and Ken Anderson (brother of ABS-CBN actor Gerald Anderson). Sebastian Castro (best known for his viral gay-themed music video "Bubble") makes his acting debut in this show.
In Karelasyon, Rodjun plays Michael, a man does not have enough money to buy medicine for his child and support his live-in partner Gina (Diva). As a result, he resorts to crime by becoming a thief.
On the other hand, Aaron (Sebastian) earns money by showing his body on the Internet.
Recently, Aaron's pornographic shows do not sell well on the Internet so he came up with a gimmick. He asked Michael to join him in his videos.
Viewers will find out if Michael will give in to Aaron's offer since he is desperate to heal his child who has a sickness. Is the father willing to exchange his dignity for money? How will this affect his relationship with Gina?
These questions will be answered tomorrow in the episode written and directed by Adolf Alix Jr. Karelasyon is hosted by Carla Abellana.



TEACHER'S PET ON IPAGLABAN MO. Mark Bautista, who transferred from ABS-CBN to GMA Network in 2010, makes a Kapamilya drama comeback. He will be seen in the November 7 episode of Ipaglaban Mo, which airs after It's Showtime.
ADVERTISEMENT - CONTINUE READING BELOW
In Ipaglaban Mo, Mark is a teacher who has a student who consistently gets low grades, played by Veyda Inoval. Because of this, the young girl is always reprimanded by her mother, played by Desiree Del Valle.
One time, the young girl comes home with her report card and her mother was shocked to see that she received high grades.

It turns out that Mark's character sexually abused the young girl and threatened to kill her if she told anyone. When the mother knew about this, she got furious and sued the teacher.
This episode of Ipaglaban Mo is directed by Don Cuaresma and hosted by Atty. Jose Sison and Jopet Sison.



DOMESTIC VIOLENCE ON MMK. The drama anthology hosted by Charo Santos-Concio will tackle domestic violence and forgiveness.

ABS-CBN's Maalaala Mo Kaya, is topbilled by Gawad Urian Best Supporting Actor Junjun Quintana who is cast as Rommel. At a young age, he was physically and verbally abused by his stepfather Rogelio (Ian De Leon) who cannot accept his child's sexual preference.
Unfortunately, his mother Leonor (Mickey Ferriols) wasn't able to defend him from the violent ways of her partner.
At eleven years old, Rommel ran away from home and lived on the streets where he felt a sense of belongingness.
However, he becomes a victim of a syndicate that prostitutes children to Arab men.
Luckily, Rommel was able to escape and returned home. Unfortunately for him, things did not change and he still felt unloved.
He then decided to work hard and grew up to be a very successful man.
ADVERTISEMENT - CONTINUE READING BELOW
With his newfound strength and success in life, can he also find it in his heart to forgive his stepfather and mother for their wrongdoings?
The question will be answered in this MMK episode directed by Nick Olanka, which airs after Home Sweetie Home.



CHATTING LEADS TO KIDNAPPING ON MAGPAKAILANMAN. In this GMA-7 drama program hosted by Mel Tiangco, InstaDAD star Jazz Ocampo plays a teenager whose life is put in danger because of the Internet.
Rica (Jazz) used to have a happy family with a luxurious life when her father (Kier Legaspi) had a good job in a private company. This motivated Rica to become an obedient daughter and a topnotcher in class.
However, when Rica reached high school, her life changed when her father started womanizing. This prompted her mother Mylene (Glydel Mercado) to file for separation. This affected Rica's performance in school and turned her into a rebellious girl.
Because of Rica's hardheaded ways, Mylene punished her and prohibited her from leaving their house. Since she has nothing to do, Rica explored the Internet and started chatting with strangers.
In a chatroom, she met Edgar (Neil Ryan Sese) who was willing to listen to her problems.

Rica and Edgar became good friends and decided to meet in person.

When the two met face-to-face, Rica was shocked to know that Edgar is already 35 years old, since she thought that they are of the same age. However, this did not stop Rica from becoming close to the guy, not knowing that he has evil plans for her.
ADVERTISEMENT - CONTINUE READING BELOW
One day, Edgar forced Rica to join him in his car and kidnapped her.
Mylene went ballistic when she found out that her daughter is missing, and she promised to do everything to find her.
This episode of Magpakailanman is directed by LA Madridejos and airs after Pepito Manaloto.