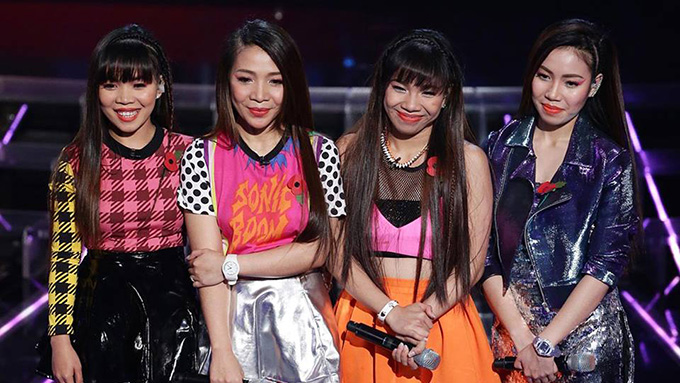 ---

Filipina girl group 4th Impact, formerly known as 4th Power, survives another double elimination at The X Factor UK Season 12.

The group—composed of sisters Mylene, Almira, Irene, and Celina Cercado—was the first one to pass the third week of live shows for the reality/talent competition.
4th Impact performed a mash-up of Girls Aloud's "Sound of the Underground" and Shirley Ellis' "The Clapping Song" during the second live shows on Saturday night, November 7.
In a video recording before their performance, Groups mentor Cheryl Fernandez-Versini said she was honored that the group chose "Sound of the Underground" to perform this week instead of Charli XCX's "Boom Clap." Cheryl was part of the now-defunct five-member girl group Girls Aloud.
Over 25 category mentor Simon Cowell commended the group's performance this week. However, Simon didn't agree with their song choice and even told Cheryl that she was a bit "narcissistic" for choosing her former group's song for 4th Impact.

Cheryl was quick to refute Simon and insisted that it was the group's decision to perform that song.
Simon then told 4th Impact, "I thought you looked better than last week. The choreography was better, vocal's great, harmony's great.
"You are a band, who I know rehearse like crazy, are ready for the real world. You've got a lot of competition in this competition but I thought you did great.
"You've always done great, to be honest with you."
Unlike Simon, Boys category mentor Nick Grimshaw liked the performance although he noted that it wasn't what he was expecting.
ADVERTISEMENT - CONTINUE READING BELOW
Nick said, "I thought that really, really works. When you were talking about it in the VT [video tape], in a little clip before, I was like, 'Cheryl's crazy to put those two songs together.'
"But it really worked, I thought it was really, really cool."
He continued, "Usually before, it's a lot like, 'Oh we're concentrating.' Tonight, though, you had fun and it felt really real tonight and I loved it. It's great!"
Girls category mentor Rita Ora only had good words for 4th Impact. She told the members, "What I loved the most is that your identity now has started to kind of morph into your own.
"Even though you're sisters, I can see that you're each individuals at the same time and vocally it sounded great.
"And I loved that tune, that's my favorite Girls Aloud tune."
Cheryl was the last to comment and reiterated:
"This was a collaborative effort. I absolutely loved it. It was fantastic. Forget about what these lot are saying—the narcissism, the pretending to hate it. It was fab!"
Kiera Weathers from the Girls category was eliminated from the competition on Sunday night, November 8 (November 9 in the Philippines), after receiving the lowest number of public votes.
Meanwhile, Seann Miley Moore and Maison Noise were also part of the bottom group and performed once again for The Sing Offs.

Seann, a singer from Australia, revealed in the past that his mother is actually a Filipino.
After the Sing Offs, the judges had a deadlock as both Seann and Maison received two votes each.

Cheryl and Simon voted for Maison based on the performance they saw on the Sing Offs.

Meanwhile, Rita gave Maison another chance and voted for Seann to be eliminated.

Nick had a hard time letting go of any of the two acts. He ended up voting for Seann to let the public vote decide which act will move on to the next round of the competition.
ADVERTISEMENT - CONTINUE READING BELOW
In the end, Seann's journey on The X Factor UK was cut short after receiving the second lowest number of votes for the week.