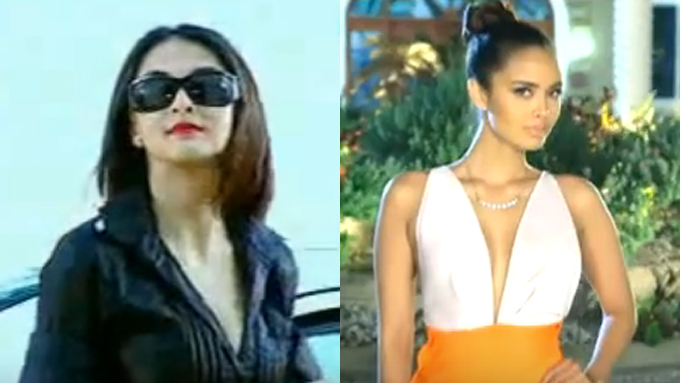 ---

One of the most-awaited parts of the telenovela MariMar is the protagonist's transformation from being a naive, island lass to a rich, powerful, and manipulative woman.
Marimar's transformation to Bella Aldama signifies the start of her revenge against the people who wronged her – including her archnemesis Angelika and her greatest love, Sergio Santibanez.
The 2015 version had a different take compared to the 2007 version: from how Marimar discovered her real identity to her transformation as Bella Aldama.



2007 VERSION. In the first Pinoy remake of MariMar, it was Marian Rivera who transformed from the innocent Marimar Perez to the vengeful, fierce Bella Aldama.
Before her transformation, Marimar left Sergio (Dingdong Dantes) at Villa Santibanez, went to Manila and there she gave birth to her baby Cruzita.
To forget the hardships she went through in San Martin Dela Costa, Marimar changed her name to Bella and started a new life.
Trying to find a source of income, Marimar – now called Bella – became a maid to the Aldama household, serving the lonely and aging Gustavo Aldama (Jestoni Alarcon) and his cousin Esperanza (Bing Loyzaga).
Gustavo did not know that he was actually the father of Marimar because the young lady had changed her name.
Soon, Natalia (Bianca King) who used to be Marimar's rival in San Martin, went to the Aldama household. She snatched Marimar's pendant (which proves that she is an Aldama) and pretended to be Gustavo's long-lost daughter.
However, Marimar's memory returned after so many years and proved to everyone that she is Gustavo's daughter.
ADVERTISEMENT - CONTINUE READING BELOW
Unfortunately, when the truth was already revealed, Gustavo died of heart attack. This incident left Marimar with the Aldama's wealth.
Esperanza then helped Marimar to rise up from her hardships and sent her to United States to study, together with her daughter and friend Innocencia.
After six years, Marimar returned to the country as the rich Bella [pronounced as Bel-ya] Aldama together with her now grown-up daughter.
Upon her arrival, she called her Tiya Esperanza using her high-tech Nokia phone.
She wore an all-black outfit: black blouse, black miniskirt, black high heels, and black bag.
It can also be seen that her actions had more finesse and are more sophisticated compared to the naive Marimar. Marian's character also sported straight, long hair unlike her previous curly hairstyle.



2015 VERSION. The first appearance of Megan Young as Bella Aldama happened last November 6.
A lot of changes were made from the 2007 version: from discovering her identity to her transformation as Bella Aldama.
The then-pregnant Marimar was working at a jewelry shop owned by Gustavo (Zoren Legaspi) and his second wife Brenda (Ina Raymundo).

While working at this establishment, Marimar discovered that her boss is her biological father.
They learned about it through a common picture of a baby Marimar that they both possessed.
Upon learning this, Marimar asked if she can call Gustavo "tatay" while Gustavo also asked if she can call her Bella (pronounced as Be-La), her real given name.
When Gustavo learned about Marimar's hardships, he and Brenda convinced her to study in France and assume a new identity as Bella.
ADVERTISEMENT - CONTINUE READING BELOW
After a lot of convincing, Marimar decided to follow her father's request. She went to France where she was trained by Gustavo's friend Capuccina Blanchett (Solenn Heussaff), aside from attending regular school.
Marimar also gave birth in France and decided to call her daughter Cruzita, named after her Lola Cruz (Nova Villa), who took care of her.
After six years, Marimar returned to the Philippines as Bella Aldama together with her father, her dog Pulgoso, her image consultant Capuccina, and daughter Cruzita, who is now a grown-up.
Some elements from the 2007 version were retained and got tweaked in Megan's version.
Bella was first seen inside a mall elevator and she brought out her iPhone 6 from her bag to check the time.
Gustavo then asked her, "Bella, are you ready?"
Bella answered her dad by saying yes in French, "Oui, monsieur."
When they left the elevator, it can be seen that Bella's movements are more sophisticated and have more finesse. She also sported a a fierce look as she carried a white designer bag.
She wore a white dress, a beige blazer, and her hair was pulled up in a bun, same as Thalia's hairstyle in the original 1994 version.
Capuccina then reminded Marimar to not forget what she taught her in France.
Gustavo then told her, "Alam kong matagal mo nang gustong umuwi. Finally, we're home."
Showing improved diction and fluency in English, she answered her father, "I know, Papa. It feels good to be back."
ADVERTISEMENT - CONTINUE READING BELOW
Bella Aldama is now expected to exact revenge on the people who abandoned and tormented her in the past: Angelika Santibanez (Jaclyn Jose), her daughter Antonia (Lauren Young), Mia's niece Inocencia (LJ Reyes), and her former husband Sergio (Tom Rodriguez).

She is also seeking retribution from her former boss Mia (Alice Dixson) whom Marimar does not know is her biological mother.


PEPsters, who is the better Bella Aldama: Megan Young (2015) or Marian Rivera (2007)?
Share your thoughts in the comments sections below.