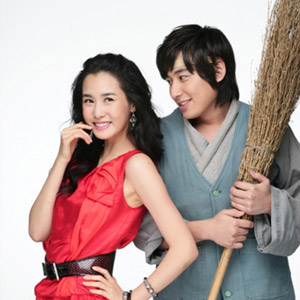 ---

How can a person choose between love or money? Find out inthe newest Koreanovela of GMA-7 titled Hello! My Lady. In an effortmaintain its winning streak in the afternoon block, the Kapuso Network airs Hello!My Lady, a Korean drama series beginning July 7, Monday. This romanticcomedy airs Monday to Friday, right after Gaano Kadalas ang Minsan.
Hello! My Lady gives a fresh take on Koreanovelas forits intriguing plot, amusing dialogue, extraordinary storyline andaward-winning cast. In this TV series, the well-heeled, attractive guy falls inlove with the girl first, veering away from the usual Cinderella storythat everyone adores.
The heroine is 22-year-old Ella (Lee Da-hee), the sassygrandniece of the Je-an Lee Clan. Due to her father's elopement with anotherwoman and the unexpected death of her mother because of cancer, Ella becomesthe apparent heir of the clan's historical home, Hwa Ahn Dang.
Left with no choice but to head Hwa Ahn Dang, Ella strugglesto save her family's traditional house at the brink of corporate takeover. Shethen moves to Seoul to find a job in order to save it from bankruptcy.
In her quest to earn money, Ella tries all sorts of workincluding her participation in a body contest. She then bumps into 30-year-oldRobin (Lee Ji-hoon), the handsome grandson of the owner of the company TOPGroup. Soon, Ella and Robin start to develop feelings for each other.
However, in an unexpected twist of events, Robin'sgrandfather happens to be involved in the takeover of Hwa Ahn Dang. Robin thenforces Ella to sell the historical home to him since his grandfather promisedto pass his rights to whoever hands him the Hwa Ahn Dang.
ADVERTISEMENT - CONTINUE READING BELOW
As expected, Ella refuses to sell the house to Robin but theromance between them continues. Adding spice to their love affair is Robin'scousin, Archie (Ha Seok-jin) who likewise tries his luck to win Ella's heartand compel her to sell to him Hwa Ahn Dang.
Will Ella finally give up her pride and historical home toRobin? Or to Archie? Can money really buy everything including love?
Hello! My Lady's main star Lee Da-hee won the 2007KBS Drama Award for Excellence in a Mini Drama. She also appeared in Sweet18, which was shown on GMA-7 in 2005.
Who will steal Ella's heart? Catch Hello! My Ladystarting July 7, Monday to Friday, in replacement of Coffee Prince Rewind. ThisKoreanovela airs right after Gaano Kadalas ang Minsan on GMA-7.