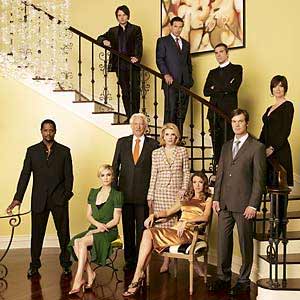 ---

Meet the Darlings of New York City.
They have money, power and privilege. And it is up to theirnewly hired lawyer, Nick George (Peter Krause) to keep the family empirerunning. That means fixing their legal troubles and sometimes their illegalproblems.
Nick was living a perfect life. He had a successful careeras a New York attorney. He had a beautiful wife and a lovely daughter whoadores him. But everything suddenly changed when his father died under suspiciouscircumstances.
After his father's death, the very powerful and persuasivefamily patriarch Patrick "Tripp" Darling III (Donald Sutherland) asks him totake over his father's job as the family lawyer with a huge salary that hecould not resist.
But Nick soon discovers that the job requires more thanprotecting the family secrets. He also has to keep an eye on every familymember and fix their problems.
Tripp Darling has no qualms about cheating on hisoverbearing wife Letitia (Jill Clayburgh) with her ex-friend Natalie (TamaraFeldman). Nick also finds out that Letitia also has affairs of her own.
ADVERTISEMENT - CONTINUE READING BELOW
Eldest son Patrick (William Baldwin) realizes that hispolitical ambitions for the Senate being threatened by his affair with atransvestite. Another son, Rev Brian Darling (Glenn Fitzgerald) becomes awareof an illegitimate son to look after.
Thrice-divorced daughter Karen (Natalie Zea) has no qualmstelling everyone that she lost her virginity to Nick when they were young.
The young Darling twins, Juliet (Samaire Armstrong) andJeremy (Seth Gabel) never run out of troubles and controversies. Spoiled bratJuliet struggles for her independence while pursuing her dreams of becoming anactress. Jeremy is an overage slacker, who has a knack for creating havoc anddestruction wherever he goes.
Can Nick manage to survive the chaotic world of theDarlings? How will he handle the pressure while keeping his dignity andprinciple intact? Will he be able to make sense the life his father lived whiletrying to solve his mysterious death?
Dirty Sexy Money was created by Craig Wright andexecutive produced by Wright, Greg Berlanti and Brian Singer.
ADVERTISEMENT - CONTINUE READING BELOW
Catch the Philippine TV premiere of Dirty Sexy Moneyon Sunday, July 6, from 9:45-10:45 pm, right after Us Girls only atStudio 23.