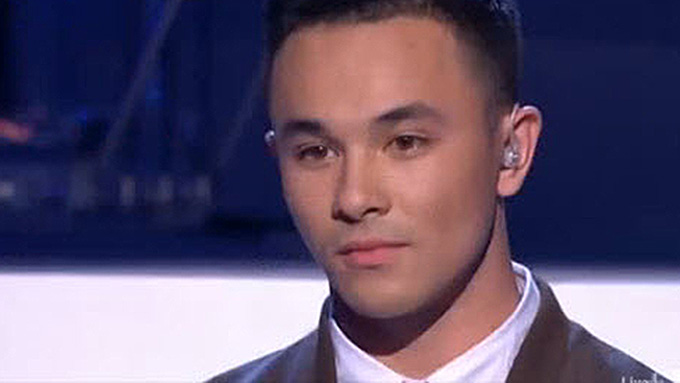 ---

Filipino-Australian crooner Cyrus Villanueva advances to the Top 4 of The X Factor Australia.

Cyrus played the piano while singing Ellie Goulding's "Love Me Like You Do" at the Top 5 live shows on Monday night, November 9. This was Cyrus' song choice for the first theme-less week of the singing competition this season.
This season's judges—Guy Sebastian, James Blunt, Dannii Minogue, and Chris Isaak—were once again impressed by Cyrus' performance.
Guy was the first to comment and said, "We're only two weeks away from the final and I think you did everything you need to do to be there. I hope you're there, you deserve to be there."
He continued, "Tonight, again, you're on the piano. I love it, I love it. It takes me back when you were on the five-chair challenge. Just absolute magic, keep doing what you do."
James admitted that he considered the song for one of his finalists in the Over 25 category. James told Cyrus, "I think it's a really, really tough song to pull off and I've considered it for my own contestants on the show.
"And I heard you on your rehearsals and I thought, 'No way, this is gonna be over…' Cyrus, you're the only one person in this show who can pull it off. Awesome!"
Dannii was left in awe after seeing some members of the audience become emotional while Cyrus is performing on stage.
She told Cyrus, "You're a singer, you're a musician, and you're a talent! I turned around and not only everyone was standing up but there were people crying, as well.
ADVERTISEMENT - CONTINUE READING BELOW
"It's a beautiful love song and you conveyed that so well and if Australia loves you like they do like you have the whole competition then vote people!"
His mentor, Chris, commended Cyrus' decision to play the piano instead of just singing. He said, "I'm really happy you took the hard way not the easy way because I offered you, I said, 'You don't have to play the piano, you could just sing.'
"And that was a different key you're used to playing that we threw it at you and you did the work, and I'm proud of you. Well done, man!"
Meanwhile, Mahalia Simpson was eliminated from the show during the results night on Tuesday, November 10.

Aside from Cyrus, the other finalists left in The X Factor Australia Season 7 are Big T, Jess & Matt, and Louise Adams.