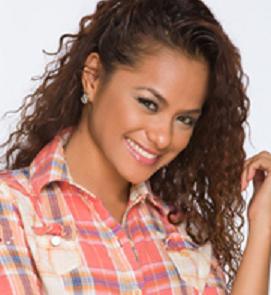 ---
After getting the lowest grade and being named one of the probationary scholars last week, Sheng Belmonte became the first scholar to be voted out from Pinoy Dream Academy Season 2. She sang her farewell song during the Third Gala Performance Night last night, July 5, at the PDA Concert Hall in Quezon City.
Sheng got a text vote percentage of 48.3, only less than a percent lower than fellow probationary scholar Jet Singh's 51.7 percent. However, between the two, it was Sheng's performance of 'Lean On Me" that wowed judges composer Louie Ocampo, musical director Gerard Salonga, and singer Rachelle Ann Go, this week's guest judge. Jet, on the other hand, got a dressing down from Gerard after singing "You and Me." According to Gerard, Jet has proven with his performance that "mas maraming singers sa Pilipinas na mas magaling kaysa sa'yo."
Meanwhile, Liezel Garcia was named this week's Star Scholar for her performance of 'So Much In Love." While criticized for her inability to use her eyes effectively while singing, Liezel nonetheless awed ASAP '08 mainstay Rachelle Ann, herself a product of a reality singing contest. The judges gave her an average score of 8.7 (out of a possible 10) points. This is the third consecutive time that Liezel has been named Star Scholar, although it was also the lowest grade she has received so far—she received 8.97 during the 1st Gala Night and an 8.87 last week.
Completing the top three scholars for the night are Christian Alvear ("Can't Smile Without You") and Van Pojas ("Turn Back the Clock"), who managed to impress even the overly-critical Gerard. Gerard commended Van for his good choice and stage presence, adding that while he is not the best singer in the competition, his fellow scholars "might not be able to out-star" him.
As with last week, the other top scholars from the previous gala night were not able to deliver excellent performances. Ocampo, while admitting Jay "Bugoy" Bogayon was among his favorites in the previous weeks, found nothing new or surprising with his performance of "Forevermore." 'I don't think it's your night tonight," he said. Gerard said Laarni Losala had great vocals but felt she missed her opportunity to shine with her song "Fighter."
ADVERTISEMENT - CONTINUE READING BELOW
Miguel Mendoza, who excelled during the first gala night but has failed to deliver since, was criticized for singing "Hahahapin Ko." "I didn't think that was a good choice for you because that song puts a premium on good singing and it exposed mediocrity in your singing," Gerard said. Apple Abarquez also did not receive favorable comments for singing "Come In From The Rain." "The song controlled you rather than you controlling the song," Louie said of Apple's performance.
Overall, the other scholars received positive feedback from the judges with songs they dedicated to their best friends. Bunny Malunda sang "Pagsubok" while Iñaki Ting and Sen Nichols received compliments from Louie for their take on "Time After Time" and "Escape," respectively. Cris Pastor ("These Dreams") and Bea Muñoz ("Kailan") also received positive feedback from Rachelle Ann.
Watch another episode of Pinoy Dream Academy Season 2 tonight, July 6. Stay tuned from Monday to Friday to Pinoy Dream Academy Season 2 Uberture, 5:30 PM, and Pinoy Dream Academy Season 2 Primetime, after My Girl on ABS-CBN. Viewers can also watch the PDA scholars everyday on Studio 23, 12:00-2:00 PM.