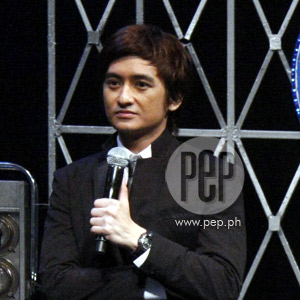 ---

Another exhilarating gala performance took place in PinoyIdol last weekend as the remaining Top 10 contestants battled it out withlive performances of heartfelt songs that represented their own lives. The pastweek showcased the Top 10 as they rendered performances symbolic of theirjourney from their pre-Idol days to the present.
Audiences saw a different twist in the reality singingcompetition, with Pinoy Idol Extra host Karylle sharing the limelightwith main host Raymond Gutierrez. The young diva looked absolutely striking ina short and colorful ensemble but it wasn't just Karylle who dazzled the SMMall of Asia audience last week. The Idol hopefuls, too, looked equally stunningin pieces that showcased their respective styles. It seems that the advicegiven by top experts have certainly paid off.
But more noteworthy than their outward appearance is theremarkable improvement in the performances of the Idol hopefuls.
Toffer Rei and Ram Chaves were standouts last week as thethree judges—Ogie Alcasid, Jolina Magdangal and Wyngard Tracy—approved theirrock-inspired take on this week's topic featuring theme songs of their lives.Both rockers were particularly edgy-with Toffer singing Bon Jovi's "It's MyLife" and Ram with "Yugyugan" by P.O.T.
Jolina was very vocal in saying that she tried to findsomething wrong in Toffer's cutting-edge performance but didn't find any, andOgie was also quick to say that the 23-year-old rocker from Marikina was"superb." Ram Chaves also received favorable comments and was told that he waslooking better and better every week.
Pinoy Idol diva Penelope was also met with praise bythe judges who were very happy with her soulful take on the theme. Penelopesang her version of "This Is My Now" popularized by American Idol Season6 winner Jordin Sparks, and was told by Wyngard, "ipagpatuloy mo ang laban."Jolina admitted that she considered Penelope as the Pinoy Idol winneralready while Ogie complimented the Batangueña's "beautiful angelic voice."
ADVERTISEMENT - CONTINUE READING BELOW
The other Idol performances, however, were not as smooth sailingas the previous three.
Jayann Bautista's rendition of Dianne Reeves' "Better Days"prompted Ogie to call the 21-year-old "a pro" while Wyngard considered it herbest performance so far. However, Jolina called it far from perfect.
Ogie didn't like Sue Ellen's version of "Jesus Take TheWheel" from American Idol Season 4 champ Carrie Underwood, and evenadded that R&B melodies would better suit the 16-year-old singer. Jolina, on the other hand, noticed ashow of nerves from the Ilongga.
Daryl Celis, despite not being not openly criticized for hisrendition of "Kung Kailangan Mo Ako" by Rey Valera, was still not able toimpress Jolina. She even called his number as a "high school" performance whileWyngard observed, "napakasimple ng song [pero] parang pinahirap."
Ogie, however, countered the opinion of his co-judges andquipped, "Saksakan naman ng appeal ang batang ito. Kung high school ako, titilitalaga ako, e."
Twenty-four-year-old Kid Camaya sang Gary Valenciano's"Warrior Is A Child," a song that was met with praise from Ogie. "This has beenyour most soulful performance yet," he said. "You know you sound best when youdon't force anything."
Jolina agreed with Ogie and commented, "Swabeng swabe ulitang pagkakanta ni Kid. Gustong gusto ko ang pagkakanta mo, nakaka-touch." ButWyngard thought otherwise and criticized, "Parang pang-high school andperformance mo, di ko ma-feel. Sa akin, it's your worst performance."
Although Wyngard was impressed with Robby Navarro for hisheartfelt performance of Whitney Houston's "Greatest Love of All," Ogie thoughtRobby's piece was not as clean as he would have liked, and Jolina was equallydisappointed in noticing some stray notes in the song.
Some were praised, some were criticized—but despite themix of positive and negative comments from the panel, two contestantswere still not able to impress any of the judges.
Ogie complimented Gretchen Espina's song choice of PaulineWilson's "Follow Your Road" but felt Gretchen was not singing it on television.Wyngard, on the other hand, remarked, "hindi nagawan ng justice yung song."Jolina did not like the performance either.
ADVERTISEMENT - CONTINUE READING BELOW
Pinoy Idol rocker Warren Antig sang "Balong Malalim"by Juan dela Cruz Band—a song that failed to impress the panel. Ogie consideredWarren's vocals as "dirty"; Wyngard openly criticized the rocker by saying,"nagdedeteriorate ka na"; and Jolina admitted that she did not feel excited atall.
However, despite all the negative comments from the judges,Warren and Gretchen were still fortunate enough to be led onto the safe sideduring the eliminations. Daryl Celis, Sue Ellen, and Robby Navarro were placedin the Bottom Three but in the end, the 28-year-old Robby had to end his PinoyIdol journey.

The Top 9 contestants who will battle it out next week are: Daryl Celis, WarrenAntig, Kid Camaya, Toffer Rei, Gretchen Espina, Sue Ellen, Jayann Bautista, RamChaves, and Penelope.
Watch another Pinoy Idol gala weekend next week asAsia's Songbird Regine Velasquez shares tips for the remaining nine finalists.Catch Pinoy Idol on GMA-7 on Saturday nights for the performances, andSunday nights for the eliminations.