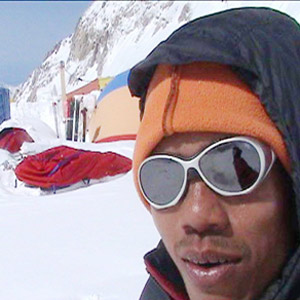 ---

Rising 20,320 feet (or 6,194 meters) from sea level, Mt.McKinley is the tallest peak in North America. Called Denali (or The Great One)in Alaska, the ice-covered mountain is considered to be one of the coldestplaces on earth. It also happens to be another mountain conquered by Born tobe Wild's resident mountaineer, Romi Garduce.
After his successful Everest climb in 2006, Romi lives up tohis reputation as one of the country's finest mountaineers. For two consecutive Wednesdays,July 9 and July 16, viewers will be treated to never-before-seen footage ofRomi's Denali summit on the GMA-7 show Born to be Wild.
This is Romi's fifth mountain summit out of the sevenhighest peaks in all seven continents, known as the Seven Summits. This is afeat no other Filipino has previously made.
When news broke out that Romi had scaled the heights ofDenali, cheers and shouts of victory were heard from his friends, colleagues,fellow environment advocates, and fans. Romi, coming home "wrecked and burned" as he described, also brings backstories of a triumphant mountain ascent that mimic a Hollywood movie sequence.
Only this time, the snowstorm isn't fake ice coming fromblowers, the deadly slips on the mountain's cliffs aren't shot in a studio, andthe emotions of a group of mountaineers in their pursuit of greater and greaterheights are all too real.
In Born to be Wild's documentary series titled TheFifth Peak, the IT systems manager for a multinational company regales uswith tales of his amazing moments in Denali. Watch clips of Romi Garduceconquering Mt. McKinley in the late-night show Born to be Wild, whichairs after Saksi on Wednesdays.