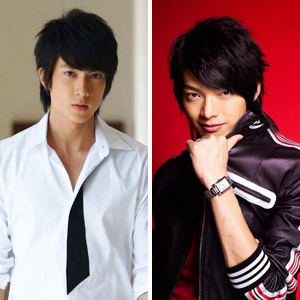 ---

Two Taiwanese heartthrobs are expected to arrive in thePhilippines this weekend to meet with their Filipino fans and promote theirshow on ABS-CBN.
Asian heartthrob Wu Chun of the Taiwanese version of HanaKimi will visit Manila together with Calvin Chen on July 12, Saturday. Theywill be in the country for a promotional tour of their afternoon series RomanticPrincess, which is currently airing on the Kapamilya Network.
The announcement of the much-awaited visit of the Taiwanesesuperstars was made by Leng Raymundo, ABS-CBN Head of Acquisitions, who saidthe visit of Wu Chun and Calvin is part of the Kapamilya Network's 55th anniversarycelebration.
"It's our way of thanking our avid and loyal viewerswho continuously support our foreign program acquisitions," said Leng.
Wu Chun first appeared on Philippine television as Bryan inthe phenomenal hit, romantic-comedy from Taiwan titled Hana Kimi shownearly this year. He is also a member of the Asian singing sensation Fahrenheittogether with Calvin Chen, who also appears in Romantic Princess. TheTaiwanese boy band Fahrenheit is composed of four members who represent thefour seasons: Calvin (spring), Jiro Wang (summer), Wu Chun (autumn), and AaronYan (winter).
The arrival of Wu Chun and Calvin follows other Asiansuperstars who were brought to the Philippines by ABS-CBN in the past like LeeDong Wook from My Girl, Eugene from Save the Last Dance for Meand Wonderful Life, and Jerry Yan together with other F4 members and MeteorGarden leading lady Barbie Zhu.
Wu Chun himself is excited to meet his Filipino fans andeven wrote about it in his personal blog. In a previous entry, he wrote:"I did try my best to convince my company to allow me to do promotionalactivities in the [Philippines] and though my initial attempt failed, I willnot give up and hope it will be a reality for all us to meet up one day,yeah!"
ADVERTISEMENT - CONTINUE READING BELOW
Fall in love with Wu Chun and Calvin Chen as the Taiwaneseactors grace shows on the Kapamilya network. Watch their show RomanticPrincess on weekday afternoons before Pinoy Dream Academy Ubertureon ABS-CBN.