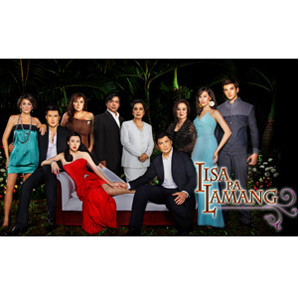 ---

Touted as former matinee idol Gabby Concepcion's teleserye debut, theRuel Bayani-Manny Palo megged drama series IisaPa Lamang will air its pilot episode this Monday, July 14. It boasts of a powerhousecast, which includes Claudine Barretto, Diether Ocampo, Susan Roces, Cherry PiePicache, Joel Torre, Angelica Panganiban, and Laurice Guillen.
"More than the casting, it's really the overall story and its elementsthat made all of us fall in love," said Direk Ruel about their new projectduring the July 8 press conference at the Plaza Ibarra restaurant in QuezonCity.
LOVE AND TRAGEDY. In the story, Catherine Ramirez (Claudine) isa provincial lass loved by two men—Miguel Castillejos (Diether) and RaphaelTorralba (Gabby). The three childhood friends remain close even as they livedifferent lives. But because of an evil plan concocted by Miguel's motherIsadora (Cherry Pie Picache), Catherine's beautiful and peaceful life will beshattered. She will fall into an abyss of lies, deceit, and betrayal.
After marrying a rich haciendero, Isadora is the most powerful woman inAmadesto, Batangas. She always has to have her way especially when it comes toCatherine and her loving grandmother Aura (Ms. Susan Roces), who serves asCatherine's inspiration and source of strength. In the midst of the problemsand challenges they face, the two continue to hope and fight for what isrightfully theirs.
ADVERTISEMENT - CONTINUE READING BELOW
Due to his mother's insistence, Miguel weds the wealthy Scarlet dela Rhea(Angelica Panganiban) without Catherine's knowledge. Catherine is overcome byhatred and wants to seek revenge. Even so, Raphael continues to be there forher. His love for Catherine is pure, even if his mother Estelle (LauriceGuillen), who happens to be Isadora's friend, disapproves of his choice.
Catherine will try her utmost best to recover from her painful past whileweighing her feelings for both Miguel and Raphael.
EVERYTHING'S REAL. Joining the cast of Iisa Pa Lamang are Jaime Fabregas, Bembol Roco and the young loveteam of Matt Evans and Melissa Ricks.
Gabby complimented the writers—Arlene Tamayo and Headwriter Ma. ReginaAmigo—for doing a good job with the script of Iisa Pa Lamang. "Ang buhaynaman po talaga ng pelikula o kahit na anong palabas ay ang mga writers. Dahilkung wala po sila, hindi po mabubuo ang ganitong kaganda na palabas," said thecomebacking actor.
ADVERTISEMENT - CONTINUE READING BELOW
Much has been, of course, about the dramatic scenes of the series, whichaccording to Cherry Pie were all "totoo." The physical and emotional demands,particularly on the lead actors, were also enormous.
Talking about her kissing scenes, Claudine revealed that she and Dietherdrank a bit of wine first to ease their nerves. "Para na kasi kamingmagkapatid, we grew up together, kaya siguro may ilang," she explained. She even added that she's more comfortable with Gabby simply because she does not shareany personal relationship with him.
"Pero siyempre meron pa din [uneasiness] pero hindi ganun katulad kayDiether," she added with a smile.
Catch Iisa Pa Lamang thiscoming July 14, Monday, on ABS-CBN's Primetime Bida.