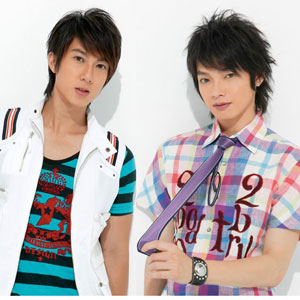 ---
The fourth Live Gala Performance Night of PinoyDreamAcademySeason 2 on Saturday will have the scholars performing duets for the first time. Asian superstars Wu Chun and Calvin Chen will grace this event.
The two heartthrobs are in Manila to promote their show Romantic Princess, which is currently airing on ABS-CBN. Both members of the boy band group Fahrenheit from Taiwan, Wu Chun and Calvin Chen will surely add spice to the Academy.
Preparations for Saturday are also under way, as the Scholars have been practicing their chosen pieces the whole week. In fact, they are all exerting extra effort in improving their weaknesses as performers.
The unlikely pair of Iñaki and Laarni are working on their synchronization, as "Kung Ako Na Lang Sana" is a tough song to perform. Bugoy and Zel are polishing their diction to sing an English song, Alicia Keys and Usher's "If I Ain't Got You."
Van and Apple, who chose to do their own version of "Nobody Wants To Be Lonely," are paying extra attention to their breath flows while Bunny and Christian are doing the necessary adjustments to their reggae version of "Wonderful World."
Real-life couple Miguel and Bea were advised by Teacher Monet to change their song from "Someday We'll Know" to "Araw-Gabi" because the former might bore the judges. Moreover, their original song proved to be unfit for Miguel. Sen and Cris, on the other hand, seem to be having a walk in the park with "Burn," as Cris is very familiar with it.
ADVERTISEMENT - CONTINUE READING BELOW
Will the scholars be able to improve on their weaknesses and give stellar performances on Saturday? How will the scholars react to the arrival of Wu Chun and Calvin Chen? Who will be the Star Scholar for the week? Who will fail to impress the judges?
Stay tuned from Monday to Friday to Pinoy Dream Academy Season 2 Uberture, 5:30 PM, and Pinoy Dream Academy Season 2 Primetime, after My Girl on ABS-CBN to find out. You can also watch the Scholars everyday on Studio 23, 12:00-2:00 PM.